Of Monsters and Mountains: The Weekend's Box Office Predictions
'Everest' looks strong, while Johnny Depp's 'Black Mass' keeps slipping.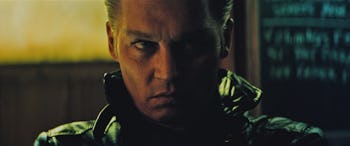 Warner Bros.
The last day of summer was September 22, which means we can finally put a nail in the coffin of the summer movie season for 2015. There were some winners, and a whole lot of losers, and now we're left with the cinematic dregs of autumn before studios start their Oscar foreplay. Oh, also, there will be Star Wars. For now, on this tweener weekend, here's a breakdown of what to expect.
What Will Win: 'Hotel Transylvania 2'
Despite being an all around kickass update to the '80s action movie mentality, last week's champ, The Scorch Trials, probably won't be able to stay on top for a second weekend in a row. The sequel to 2014's The Maze Runner opened up a few million dollars behind the original, with just upwards of $30 million. Despite potentially having legs to eke out a profit, The Scorch Trials will have to contend with another sequel this weekend: Hotel Transylvania 2. Beware the power of children's movies, and don't ever lowball the opportunity for parents to bring their kids out to a movie to shut them up for a few hours. The first installment of the ghosts-and-goblins-and-Count-Dracula-in-a-hotel series debuted in theaters on the same weekend slot three years ago, and racked up a three-day total of $42 million. Look for Hotel Transylvania 2 to pull in a little less, around the $37 million mark.
What Will Disappoint: 'Black Mass'
The title should actually read "What Will Continue to Disappoint." The Johnny Depp mob drama was supposed to be the actor's return to highbrow prestige, but critics are already panning him as merely playing dress-up. In his review of the film, Anthony Lane of The New Yorker said, "His hair is pale and thin, like dry grass, and combed back over his crown. The eyes, of gelatinous blue, seem barely to belong to him." Count it with the laundry list of roles Depp turned into a caricature instead of a performance. First weekend numbers were at disappointing $22 million, which put it in second place. The only way for Depp's movie to go from here is down.
What Will Surprise People: 'Everest'
Didn't I say the summer spectaculars were in the rearview? The Jake Gyllenhaal mountain-climbing disaster movie Everest debuted last weekend in an unorthodox manner. Theatergoers could see it only on a limited number of IMAX and large format screens, and yet it managed a $7 million draw for fifth place. Top five on just a bit over 500 screens is impressive, and as it expands into a wide release this weekend, it should, uh, climb even higher. Look for it to sell enough tickets to put it somewhere in the $15 million range for the weekend.
What's On the Horizon: 'The Martian'
Ridley Scott and Matt Damon's Robinson Crusoe-on-Mars movie is coming, and it'll take the box office and the Oscar season chatter with it.