'The Scorch Trials' Director Wes Ball Just Made a Quintessential '80s Movie
'The Scorch Trials' Director Wes Ball didn't want to make another YA movie. He wanted to make 'Terminator.'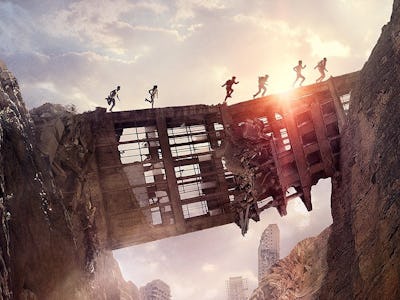 www.facebook.com/MazeRunnerMovie
Director Wes Ball's new film The Scorch Trials races into theaters today, and it's literally a big deal. It's the second part in a planned big screen trilogy adapted from author James Dashner's popular Maze Runner book series. Ball is coming off of his first installment, in which protagonist Thomas (Dylan O'Brien) finds himself and a group of teenage strangers escaping from a massive jungle-like maze following a post-apocalyptic event that may have been caused by a shady company called WCKD, and Thomas may have has something to do with it. The Scorch Trials opens the story from a relatively contained adventure to a much wider scope. It's that genre range that gave Ball the chance to honor the movies he grew up watching.
Previously a visual effects and graphic artist, Ball is directing just his second feature with The Scorch Trials. Expanding on Thomas' mysterious world was a daunting task the relatively new director took in stride. "It was exciting for me because it meant that I didn't have to make the same movie again, and that was actually a lot of fun," he told me. "We're not making a sequel. We're just trying to continue the trajectory of the story we told in the first one."
The 34-year-old Ball scored a massive hit with the first installment, which grossed north of $300 million worldwide on a $34 million budget. He found taking the group of kids and putting them on the run in the second installment somehow easier. "It's a road movie. It's simpler than the first movie in a way," he said. "There's a very clear, clean push towards this goal of theirs to find freedom and to find a home. We structured the movie around that and just built out from there by holding on to a fun sense of adventure and scope." That sense of adventure allowed Ball to cull from the movies he loved while growing up, and hopefully turn the film's tweenage demographic on to what he thinks are the classics.
His favorites are likely some of your favorites: The Terminator, Alien, Jurassic Park, Raiders of the Lost Ark, Star Wars. He was also quick to point out the influence of the adventure/horror game The Last of Us. "It has a really great vibe," he said. "I love the story of it. It's raw, it's real, so we definitely tried to go for that approach for The Scorch Trials."
The genius part about the way the new movie plants its homages — or ripoffs — is how it proudly displays them but is able to weave them into the adventure without being derivative. The facility the kids are brought to could remind some of the compound in Aliens, the deadly troops and ships of WCKD could be a nod to the forces of Skynet in The Terminator, and the post-apocalyptic wasteland rings with a Mad Max flair. And yet, the environments and everything going on around Thomas only served to keep the plot moving forward in spectacular fashion.
It's a movie unlike the contrived, confusing melodramas from other young-adult source material, which is something that Ball wanted to avoid. "I can't stand it. I hate it," he said of the YA label. "I'm not making a movie with teen issues. We're not making a YA movie here. We're making a movie with young people in it."
Of course, the source material fed assumptions that it's kiddie fare. But Ball explained that he tried to ground the world Dashner created in a firm reality. "It's fortunate because with the second one we were able to bring in adult characters and open up the world a little bit to play up that idea," he explained. "What I tried to do was take what I thought was interesting and try to make it as real as possible. I wanted to treat it seriously."
With kids fighting for their lives with a sense of surprising brutality and finding further clues about a deadly plague that may have wiped out much of the world's population, The Scorch Trials does feel fully grown. The story also isn't over. Ball recently signed up to direct the last installment, titled The Death Cure, scheduled for a 2017 release. He's ready to complete the trilogy.
"Most new filmmakers don't do trilogies," he said. "It's the guys I look up to that get to do trilogies, but not many people have done it for their first three movies, so that's kind of fun." Without giving anything away, he hinted at where Thomas and his group would go next. "The first movie was about escape, the second movie is about being on the run, and the third movie is going to be about infiltration," he explained. "It'll be a whole different kind of animal."