Take a Look at Individual Character Posters for 'The Force Awakens'
The whole 'Star Wars' gang is here... except Luke.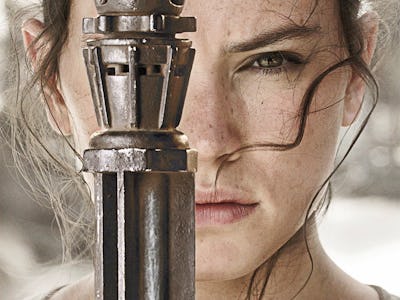 www.facebook.com/DaisyRidleyOfficial
Upset that the most recent trailer for The Force Awakens would be the last new look at the movie before it's released on December 18? Don't fret, the Disney marketing machine is here to remind you that Star Wars is coming — as if you didn't know that already.
Various Star Wars social media accounts blew up this morning to release individual character posters for our heroes and villains. They're detailed looks at the new and old crew of the movie, and that's about it. Still no Luke, we get an actual non-split-second look at Leia, everyone but the (former?) princess is carrying a weapon.
Here they are in order of relative awesomeness:
Here's Han with that iconic blaster.
Kylo Ren looking sufficiently threatening.
Daisy Ridley looking particularly badass as Rey holding whatever that staff thing is she uses on Jakku.
John Boyega as Finn, who is seen here wielding Anakin's lightsaber.
Princess Leia is back again, standing in front of what looks like battle screens similar to the ones on Hoth from The Empire Strikes Back.