Marijuana Could Become Legal in Ohio, but at the Cost of Corporatization 
Legalization in the Buckeye State would put weed farming in the hands of a celebrity marijuana monopoly.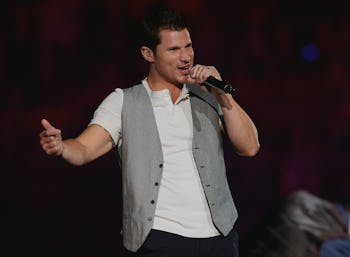 Getty
By the end of the day, Ohio might be the fifth state to make recreational marijuana legal. Voters deciding the fate of "Issue 3," however, aren't just defining the state's attitudes on drugs. They're deciding what — and who — will give shape to future campaigns for legalization.
That's because legalization in Ohio would put weed cultivation and sales in the hands of only ten predetermined farms. The owners of these farms — potential members of the Ohio "marijuana monopoly" — include Buckeye State celebrities, including ex-98 Degrees boy bander Nick Lachey, as well as other prospective pot oligarchs like designer Nanette Lapore, former NBA star Oscar Robertson, and the NFL's Frostee Rucker.
If Ohioans vote yes on "Issue 3," the state will be the first in the Midwest to legalize recreational marijuana. It'll also be the first to win via a privately organized legalization campaign backed by nearly $25 million from its investors, who refer to themselves as "ResponsibleOhio." While there is little disagreement that legalization in Ohio will be a boon for the marijuana movement at large, critics of the bill, which include the Drug Policy Alliance, maintain that the formation of a weed oligopoly is rife with problems. According to one study, in four years the ten ResponsibleOhio farms could generate up to $1.1 billion worth of pot annually.
Supporters of Issue 3, including Lachey and his fellow future farmers, see legalization as a way to boost the state's economy, create jobs, and curb the black market for drugs — as well as getting rich. Ian James, who runs the firm that helped organize Ohio's legalization campaign, has been transparent about his plans to make marijuana corporate. The future of weed, he says, will inevitably be driven by business, no matter how pot advocates feel about it. Today's vote will determine whether his predictions are right.