The 'Warcraft' Movie Poster Distills Horde and Alliance to Facepaint Colors
The big movie adaptation of Blizzard's 'Warcraft' games look positively medieval.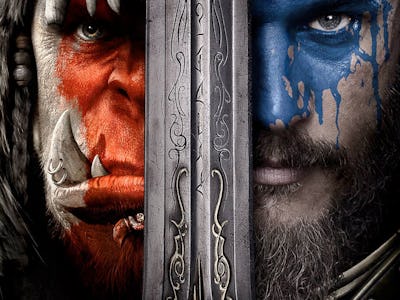 Legendary Pictures
The Horde and Alliance armies alike are celebrating the first release of the official Warcraft poster, which successfully communicates the simplicity of two opposing sides into an even simpler difference in color face paint.
That World of Warcraft fans are atwitter for the poster must be comforting for Legendary Studios. Legendary is anxious about its ambitious project, with a a reported budget rushing past $100 million. A cold reception to the trailer's premiere at San Diego Comic-Con didn't help matters either.
But what's a better way to sell a complicated movie than with a simple poster?
Warcraft will be released June 10, 2016. It will star Travis Fimmel, Paula Patton, Ben Foster, and Robert Kazinsky as Orgrim Doomhammer, with Duncan Jones directing.