It's Official: Flu Season Has Arrived
Time to start stocking up on tissues and vitamin C.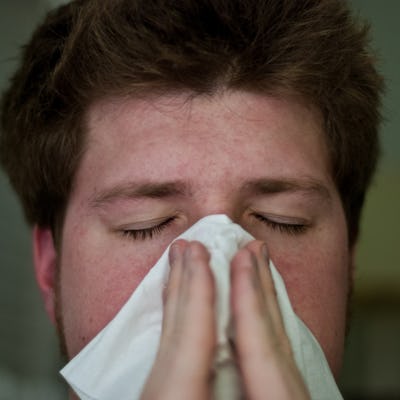 William Brawley via Flickr
The leaves are changing color, the air's getting crisper, and you're already hearing sniffles over in the next cubicle — which means that flu season is back. The Centers for Disease Control has just resumed its weekly flu activity reports, which means that it's officially time to buy O.J. in bulk and wash your hands every time you touch anything.
FluView uses data collected each week from the World Health Organization and the National Respiratory and Enteric Virus Surveillance System labs (including the total number of influenza tests given to patients as well as the positive test results). FluView charts the big questions about the illness from week to week: who's got the bug, what types of flu are circulating, when each region starts experiencing symptoms, and where there's any flu-like activity in the country.
Since it's pretty early in the flu season, there's a predictably low amount of flu activity around the country right now according to the latest report. (Although Puerto Rico is already experiencing a moderate number of flu cases.)
As the season progresses, the weather gets colder, and you're forced to spend more time indoors with potential flu-carriers, the FluView map will start to go from green to yellow to red just like the leaves are doing right now.
You can check FluView each week on the CDC's website so you can avoid a week of misery (and Netflix!) on the couch.