'Lucifer' Trailer Tries to Make the Devil America's Newest Handsome Anti-Hero
In the pantheon of charismatic television heroes, could we expect to welcome the devil himself?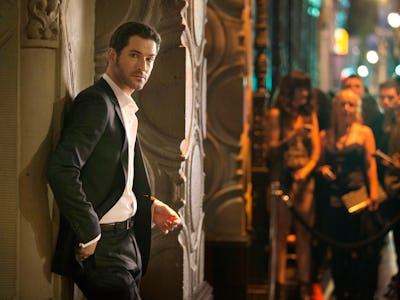 Fox Networks
Amazon has released a new trailer for Fox's upcoming Lucifer, and it's doing some heavy-lifting making Satan a likable, sympathetic guy who still calls little girls hookers.
"We should be out there, solving a homicide and punishing those responsible!" says Lucifer Morningstar, a bored lord of Hell who has come to LA to fight crime. Played by Tom Ellis, the Lucifer character is the creation of Neil Gaiman and Sam Kieth who first appeared in the Sandman comic book series.
As first reported by TV Wise, Amazon Prime Instant Video has acquired the rights to stream the series in the UK before it premieres on Fox in the United States in May 2016.
Based on the DC/Vertigo comic book, Lucifer is shaping up to be stronger than what the first trailer showed, but this second trailer still remains virtually plotless.
"Stop caring, you're the devil," a woman tells him. "Yes, I know," he sighs. Satan has a conscience.
Lucifer still looks indistinguishable from other supernatural procedurals with a little less personality. (He's the devil, how much personality does he need?). But early reviews from San Diego Comic-Con indicate the show could be worth watching. Should it succeed, the Devil could become the next American icon. Imagine that.