The 2017 'Power Rangers' TV Season Will Be Exclusive to Netflix
Saban's costumed superheroes leave Nickelodeon in favor for the popular streaming service.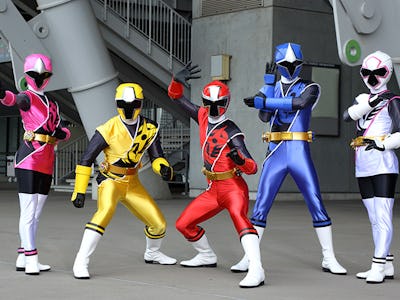 Toei, Saban Brands
When people talk about Power Rangers and ask "Is that still on?" the answer will technically be "sorta" in 2017.
Collider is reporting that the 24th (!!!) season of Saban's superhero franchise will be exclusive to Netflix when their current Nickelodeon deal expires in 2016. The show began broadcasting on the channel in 2011 after Saban Brands purchased the franchise back from the Walt Disney Company in 2010.
According to Collider, the Netflix season will be titled Power Rangers Shuriken, based on the Super Sentai series Shuriken Sentai Ninninger currently airing in Japan. Not much is known about the story, but Ninninger is about a superpowered squad of ninjas who save the world. It's likely that the new Power Rangers will be about the same. Also, there is no Black Ranger even though they're ninjas.
Power Rangers joins a few other kids TV shows exclusive on Netflix. So it's unlikely the looser content restrictions means we'll binge on a "mature" Power Rangers where the Blue Ranger gets a forced handie from Claire Underwood.