Criticism Leveled at Mark Zuckerberg's Internet.org as an 'Unethical Initiative'
Mark Zuckerberg's plan to deliver free Facebook to billions is backfiring.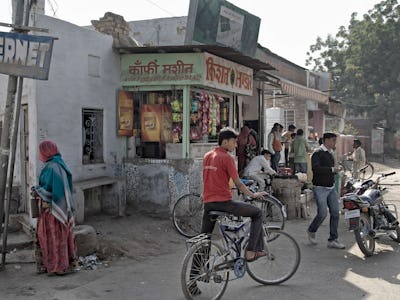 Eric Parker on Flickr
Here's a riddle: Mark Zuckerberg rolls out his plan to bring a bare-bones internet to millions of people who can't afford it in India, but advocacy groups that support rural internet access are protesting the move. What's going on?
Enter Osama Manzar, the founder and director of India's Digital Empowerment Foundation, which is committed to connecting rural regions to the internet. The foundation "believes that lack of access to information is the biggest critical reason why there has been widespread corruption, exploitation, deprivation and poverty," Manzar tells Inverse by email. "We believe and practice and advocate for internet for all, irrespective of their economic and social status or geographic locations."
So why the beef with Facebook?
The devil, as they say, is in the details. Facebook's Internet.org offers free access to a stripped down version of Facebook, Facebook Messenger, and a few dozen other news and information sites. The company partnered with Reliance Communications — India's fourth-largest telecom provider with a total of 109 million subscribers — and only Reliance customers can get access internet.org.
At its heart, the deal allows Facebook to pay an internet service provider for preferential access to its customers, who will have access to a list of selected websites — Facebook and Facebook Messenger included. In case you've missed the various debates over net neutrality in the United States and elsewhere, this is precisely the situation that internet advocates are fighting to prevent.
Of course, Zuckerberg has defended Internet.org, saying it has nothing to do with net neutrality and everything to do with providing free, basic internet to people who couldn't otherwise afford it.
This, Manzar says, is just not true. "Many people see Internet.org as an opportunity to taste the internet which it actually is not. Internet.org is actually in the name of access to internet giving access to its own content and services; it is dividing the people into different class which is extremely dangerous for the internet itself and for the people."
Internet.org is an "unethical initiative," says Manzar, because it pretends to offer internet access when it in fact only offers access to its own content and services.
There are other, better ways to reach underserved communities, says Manzar. His organization has been working on them for 13 years.
"Equal and widespread access to internet is possible with existing net neutrality framework and use of several technologies and regulation like wireless technologies, use of unlicensed spectrum, provision of public internet access points, making all public institutions like millions of schools, health centres and village councils internet enabled," he says. "And all this is possible with existing infrastructure and without the need of any unprecedented effort."
Bottom line? Internet.org is not the internet. "Poor people are not there to be treated with poor and class sensitive device or access or content or Internet," says Manzar. "Internet.org is hurting ethics, business logic, and business of access and business of content and trust of people."
According to the New York Times, the Indian government is considering regulations to govern Internet.org and other similar services.