Netflix Debuts Trailer to New Adam Sandler Original, 'The Ridiculous 6' 
The comedy Western will be released on the streaming service this December.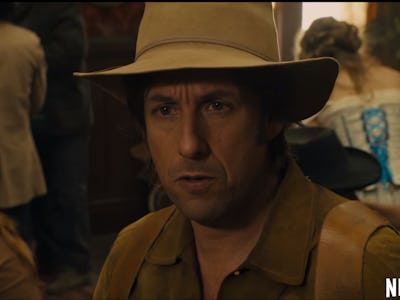 YouTube
The news cycle has churned out story after story about it. People have been speculating about it for months. It's taken pop culture and fanboys by storm. No, we're not talking about the trailer for The Force Awakens. Netflix has just debuted the first trailer for Adam Sandler's Western comedy, The Ridiculous 6. It's the first in a four-movie deal the actor made with Netflix last year.
It's a curious second original film for the streaming service after they released director Cary Fukunaga's potential awards contender, Beast of No Nation, earlier this month. What we do know for sure is that The Ridiculous 6 won't be much of an awards contender. Even giving the clip the benefit of the doubt we counted exactly zero funny moments in the entire thing. The official description is also fairly bland:
"When his long-lost outlaw father returns, Tommy "White Knife" Stockburn goes on an adventure-filled journey across the Old West with his five brothers."
Okay? Apparently Sandler's films do well with the Netflix crowd, but we're sure that means they're popular with the people who stay home all day binging the streaming service with nothing else to do. It'll be interesting to see how the movie does critically, as the last big Western comedy, Seth Macfarlane's A Million Ways to Die in the West, was a box office bomb.
But wait, you ask, isn't there another numerical Western coming out in December by a middle-aged white dude? Why yes, Quentin Tarantino's The Hateful Eight also drops in December, and it's easy to mistake one for the other. Just remember, Rob Schneider is playing the guy he always plays and Vanilla Ice is playing Mark Twain. We'll be here when you stop shaking your head in disappointment.
Done? Great. It's good timing for Netflix to drop the trailer, as previously The Ridiculous 6 was mostly known for the controversy it caused during production that saw Native American actors walking off set because of racially insensitive material in the script. Knowing the level of intellectual humor usually found in Sandler's films, many people found it plausible, though Sandler called the fracas a "misunderstanding."
Decide for yourself when The Ridiculous 6 debuts exclusively on Netflix on December 11.