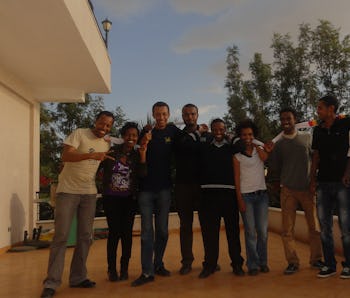 Culture
Ethiopian Bloggers Go Free After 18 Months in Prison
The Zone 9 writers are glad to be out, but afraid their ordeal has shocked others into silence.
Wikipedia
Activist Ethiopian bloggers who spent 18 months in prison on terrorism charges criticized their government Monday for making them an example of what happens to its critics.
Back in April 2014, the Ethiopian government arrested members of the Zone 9 blogging collective, so named because the state prison has eight zones and they saw an oppressive government as becoming its own zone. They were arrested because of alleged ties to outlawed groups — including "peaceful" social justice group Ginbot 7 — allegedly planning terror attacks, and attending digital security training. The full charge sheet is available here.
They were also charged with conspiracy as their site used the sort of encryption tools typical to most journalists. All have since been acquitted, save for one blogger who was found guilty of a single charge of "inciting violence" and who was released on bail October 21.
The group has made a public statement about their incarceration in a post on the Zone 9 blog:
"Yes, it is good to be released, but we were arrested undeservedly. All we did was write and strive for the rule of law because we want to see the improvement of our country and the lives of its citizens. However, writing and dreaming for the better of our nation got us detained, harassed, tortured and exiled. Undeservedly."
"It makes us happy when we hear people say they are inspired by our story. But it also makes us sad when we learn people are scared to write because they have seen what we have gone through for our writings. Our incarceration makes us experience happiness and grief at the same time. The bottom line is that it is good to know we have inspired people while it is saddening that people have left the public discourse as a result of our detention. It is sad to know that our detention has had a chilling effect on public discourse."
Zone 9 supporters have called for the case to be used as a rallying point to pressure Ethiopia to change its controversial Anti-Terrorism Proclamation of 2009, which the Electronic Frontier Foundation called a way to give the "harshest of penalties (each blogger faced up to 10 years imprisonment) for the vaguest of offenses."
The law, which has a broad definition of what constitutes terrorist support and few protections against government surveillance, was a major part of bringing charges against Zone 9 for using encryption methods promoted by mainstream tech companies like Google and Apple.
Though Ethiopia's constitution protects freedom of speech and a right to privacy, its treatment of the media has it ranked fourth on the Committee to Protect Journalist's list of the 10 Most Censored countries. As of late 2014, at least 17 journalists were imprisoned there — Zone 9 included — because of their work, and many more have fled the country.