Scientists are Sleeping With Their Urine in Hot Water Bottles So You Can Prepare for Rising Sea Levels
Scientific models predict that sea levels will rise if ice melt continues but may be underestimating the situation. That's why researchers are freezing in Greenland, getting crucial data on climate change.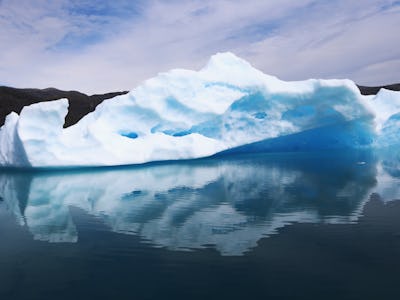 Joe Raedle/Getty Images
When researchers were camped out on the frozen tundra this summer, they kept batteries from freezing by sacrificing their hand-warmers and gripping them with their bare hands. At night, they used bottles of their own urine as bed-warmers when they slept.
"We scientists love to sit at our computers and use climate models to make those predictions," team-leader Laurence Smith told the The New York Times in "Greenland is Melting," a report published today. "But to really know what's happening, that kind of understanding can only come about through empirical measurements in the field."
Scientists know that the global sea level has risen about eight inches since 1880. It's the future that is more uncertain. And it's estimated that changes in the ice sheets will cause a two-foot sea level rise by 2100. These forecasts are based on intricate models that, while advanced enough to be taken seriously, are imperfect. Scientists know that to really know what is happening, they have to get out of the lab.
It's estimated that changes in the ice sheets will cause a one to eight-inch level rise by the end of the century and a two-foot rise will occur by 2100. These forecasts are based on intricate models that, while advanced enough to be taken seriously, are imperfect.
Greenland is at the heart of the conversation around rising sea levels; a 2012 paper published in Nature predicts that the present carbon dioxide levels may lead to the massive island to melt completely over the next several thousand years. When Greenland's ice sheet melts, it will cause the sea levels to increase by 20 feet.
According to the U.S. Global Change Research Program, even the most sophisticated climate models can't completely predict rapid changes in ice sheet dynamics. This is a big concern because models are likely to give an underestimation of sea level rise. The researchers profiled in the Times are the first to collect a data set from the network of rivers that spread across Greenland. For the three days they were there, every hour was spent taking measurements of the velocity, volume, temperature, and depth of a river.
This data, they hope, will help scientists precisely predict how fast sea levels will rise so that people on coastal areas will know how to ready themselves. The United States Geological Survey predicts that rising sea levels will lead to severe coastal flooding if action is not taken to protect the coastline. About five million people live within four feet of high-tide level coastline in the United States.
"Sea level rise is one of the most visible signatures of our changing climate, and rising seas have profound impacts on our nation, our economy, and all of humanity," said Michael Freilich, director of NASA's Earth Science Division, in a press conference for NASA's own model of rising sea levels.
Another reason scientists are out to collect hard evidence of climate change? To convince Republicans of the magnitude of the issue. The chairman of the House science committee, Representative Lamar Smith of Texas, has been on a warpath to cut $300 million from NASA's budget for earth science.
Smith and his team are supported by a three-year, $778,000 grant that is supposed to cover everything from computers to extreme-cold-weather gear. But it does not cover porta potties — a fine sacrifice if it means we are one step closer to knowing exactly how to prepare for a rising ocean.