2,400-Foot-Long Mexican Drug Cartel Tunnel Into San Diego Unearthed
El Chapo is on the run, but the smugglers are still using his tunnels.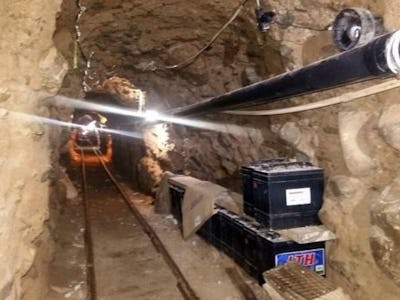 Mexican Federal Police
Fugitive drug lord Joaquin "El Chapo" Guzman didn't get the name "Master of Tunnels" because he had a passing interest in digging. No, he earned his nickname for subterranean Taj Mahals like the freshly uncovered 2,400-foot tunnel between Tijuana and San Diego. That's 60 percent longer even than Andy Dufresne's escape route in The Shawshank Redemption. I can't even imagine, or maybe I just don't want to.
Authorities discovered the passage — believed to be one of El Chapo's — 30 feet underground in a bust that yielded 12 tons of marijuana and 22 arrests. The Associated Press reports that one of the longest cross-border tunnels between Mexico and the United States was lit, ventilated, and even had a rail system.
The drug smugglers tipped their hands when an undercover agent from U.S. Homeland Security Investigations promised them $10,000 per truckload of drugs.
Mexican smugglers have been using tunnels for years, and dozens have been discovered on the border. In 2012, a tunnel was discovered hidden beneath a one-story house near San Luis, Arizona, after local police stopped a truck carrying 29 pounds of marijuana. More recently, El Chapo himself used one to escape from prison.
Regardless of El Chapo's status, the newly found tunnel shows that cartels will have a strong attraction to underground drug running for the foreseeable future. They take forever to build, and they're costly as all hell, but they're so effective at sliding product north of the border that you get a great return on investment.