Domino's Pizza's New Custom-Made Car Is the Future of Food Delivery
The Chevrolet-made DXP is way more than a gimmick.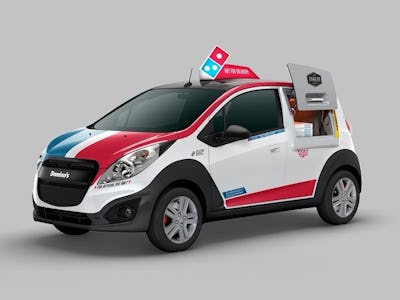 Domino's Pizza Twitter (@dominos)
Having already conquered the garlic bread crust, Domino's Pizza has introduced its latest innovation: the DXP, a car specially designed to keep pizzas hot for delivery. The DXP (or Delivery Expert) is a modified 2015 Chevrolet Spark that has a built-in oven that can hold up to eight pizzas. The only seat is the driver's, too, so the vehicle can haul up to 80 total pizzas.
The DXP is the combined effort of "Domino's, Michigan-based automotive engineering company Roush Enterprises, and former General Motors Research and Development executive Kenneth Baker," according to the Los Angeles Times. It took more than three years to finish. And over the next 90 days, Domino's will roll out the DXPs into 25 markets across the United States. The rest of the markets, for now, will continue to have drivers use their personal cars. (Read: Domino's is not yet trusting its stoned workforce to drive a car with a fucking oven in it.)
The DXP, with its very, very clear branding, looks to be a Domino's exclusive for now. It could, however, be useful for all sorts of food delivery. Currently, air-conditioned trucks exist for delivering produce and beer. Who's to say the DXP couldn't get a new paint job and keep baked goods warm for early-morning delivery? Thai food? It could very well be smart for Seamless and GrubHub to gobble some of these up and start their own all-around delivery service. Even Uber could potentially send DXP drivers around to pick up food at the consumer's leisure.
Earlier this year, restaurant sales surpassed grocery sales for the first time, likely due to the increased ease of takeout and delivery with desktop and mobile apps (like the aforementioned Seamless and GrubHub). Innovations like the DXP could help further improve the convenience of delivery during an era when all we really want to do is press a button and wait around for food to arrive.