Amazon Is Now a Cloud Computing Company That Sells Books
AWS is bringing in more than half of the company's total profits.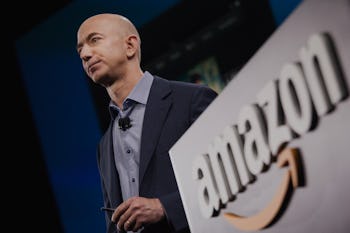 Getty
Amazon announced today that its 2015 third-quarter earnings were up 23 percent, with the majority of the profits coming from Amazon Web Services.
The cloud computing service reported $2.1 billion in revenue and $521 million in profits — a performance accounting for almost half of Amazon's total profits. Backed by its AWS, the e-commerce pioneer is essentially now a very successful cloud company that also happens to ship books, pants, and groceries.
"It's a young and rapidly growing business," Phil Hardin, Amazon's director of investor relations told market analysts. "We're taking a longterm view on the business. The team is keeping its head down. We're going to continue to accelerate the pace of innovation and close the functionality gap."
In other words, why fix what's not broken?
Those profits were strong enough to give the company a net income of 17 cents a share — when analysts had predicted a loss of 13 cents a share, The New York Times reports.
Prime Day, Amazon's 20th-anniversary sale, was also credited for the booming profits, having boosted revenue two percentage points. The company declined to release specific sales numbers, but did say the event got more customers to sign up for a free trial of Prime than on any other day, including Black Friday and Cyber Monday.
The failed Amazon Fire smartphone aside, the company saw strong electronics sales, with healthy profits considered a good look on the way into the important holiday retail months of November and December.
With sales good and cloud profits staggering, analysts on today's call were looking to the company's expansion in India, where it has been adding products at the rate of 40,000 per day to a healthy response (without offering specific sales figures), expanding the delivery infrastructure for its Prime customers, and encouraging more third party sellers to make goods Prime-eligible.