The massive flop likely signals the end of the company's smartphone aspirations.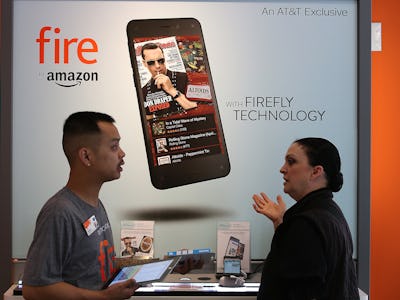 Getty
What can you say about a one-year old smartphone that died? Probably that it sucked.
Arstechnica reports that Amazon is withdrawing from the smartphone market with both versions of its Fire Phone listed as "currently unavailable" and no date for a restock. No surprises here given the phone only managed 12,960 in total sales worldwide.
Released in 2014, the Fire was met with lukewarm reviews. CNET's editors gave it a shrug of a three-star review; users rated it just two stars. Amazon tried to attract users with 3D visuals, but the poor battery life and limited app store did nothing to impress. The inability to connect to the Google Play app store was another knock. Amazon just axed dozens of engineers who worked on the flop, and market wonks think it's unlikely the company will try to expand into hardware again while its in-house software remains reliably lucrative. Sleep well, Fire. You were bad and nobody wanted you.