Pepsi Perfect Sold Out Fast on 'Back to the Future' Day
The soda featured in the movie is being sold 30 years later, but good luck finding one.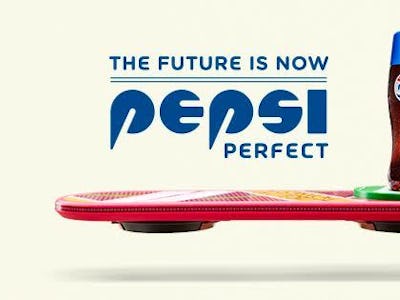 www.facebook.com/PepsiUS
Update: According to a tweet from Pepsi, its Pepsi Perfect limited edition bottles are, in fact, sold out. Fans still looking to find one should keep their eyes peeled on eBay, but get ready to pay exorbitant prices.
Earlier this month we brought you the news that Pepsi would recreate a limited amount of real bottles of Pepsi Perfect, the prop seen in Back to the Future Part II, in honor of Back to the Future Day today.
Since many Back to the Future fans are avid collectors, most were probably waiting by their computers with their credit cards ready to click the buy button for one of 6,500 bottles the soda maker was offering. But it looks like they didn't have enough time to get one.
Major retailers like Amazon and Walmart seem to be sold out of the collectible 19.6-ounce bottles of Pepsi Perfect, which, not surprisingly, made fans vent their anger all over Twitter.
Adding to the anger would be fans who attended this year's New York Comic-Con earlier this month who had the first chance to get their hands on a bottle. Pepsi said they would be selling the bottles today for $20.15 in honor of the year that Marty and Doc travel to in the future, but lucky attendees had a shot at getting a Pepsi Perfect bottle absolutely free if they either dressed like Marty or if they could be the arcade game Wild Gunman also seen in the movie.
But it looks like fans may not be out of luck just yet. Pepsi tweeted out that the specially-made soda isn't sold out just yet, which means they may release more batches of the Back to the Future-related piece of ephemera throughout the day.
If you're one of the unlucky McFly fans that missed out, keep checking back on Amazon or Walmart's websites, or be sure to keep up on Pepsi's social media accounts to see if anything changes. Otherwise you may be "outatime."