What You Need to Know About Getting 'Star Wars: The Force Awakens' Tickets 
Start making your game plan now.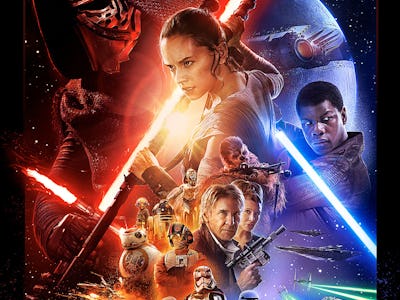 StarWars.com
The final countdown is here: only 61 days until Star Wars: The Force Awakens. That means there'll be an onslaught of Star Wars stuff until the big day arrives on December 18. Today, the team at Lucasfilm released a new poster for the movie, and tomorrow fans will get to see another trailer (the first one in half a year) and get their passes for opening night.
These tickets will be hotter than the inside of a Tauntaun, so it's best to go into your Star Wars ticket-buying journey with a calculated offense. Depending on how hardcore you are, you'll need to make different game plans based on whether you want to be one of the first people to see the new movie, you're into seeing a ton of Star Wars flicks in a row, or if you're really into limited-edition swag giveaways.
Here are the things you need to know:
The third (and probably final) trailer for Star Wars: The Force Awakens premieres tomorrow night during Monday Night Football, which starts at 8:30 p.m. EST. According to ESPN, the trailer will air during halftime.
Tickets will be available online after the premiere of the trailer.
There will be two types of tickets for the movie: tickets that are just for screenings of The Force Awakens and tickets for the official Star Wars Marathon Event.
*The Star Wars Marathon Event will be playing in theaters across the country where you can revel in all the films' light saber-filled glory. That means seven films, back to back, beginning on December 17 — starting with The Phantom Menace and the other five previously released films in 2D and ending with The Force Awakens in 3D. How long will that take? The first six films clock in at 791 minutes total, which means over 13 hours of horking down popcorn with your fellow nerf herders before you even get to The Force Awakens. (But hey, you'll get an exclusive lanyard with "marathon art" on it.) Check out the official Star Wars website for a complete list of the theaters doing marathon screenings.
Theater chains will be giving away a ton of Star Wars swag throughout the first couple weeks of the film's run. From December 19-January 9, Regal Cinemas will give the first 500 IMAX viewers collectable tickets with new artwork each week as part of Star Wars Saturdays. AMC Theatres will give all the fans at each IMAX 3D screening an exclusive Dan Mumford print, again with new artwork each week as part of Star Wars Sundays from December 20-January 10. Cinemark will be giving away limited-edition 3D glasses by attending the first showing of the film or purchasing a Star Wars concessions combo pack.
May the Force (and good WiFi signals) be with you tomorrow evening.