Listen to Selena Gomez, Neon Indian, Raury and More This Weekend
Here are some of the newest songs from the top of the pop charts to the indie underground worth a listen right now.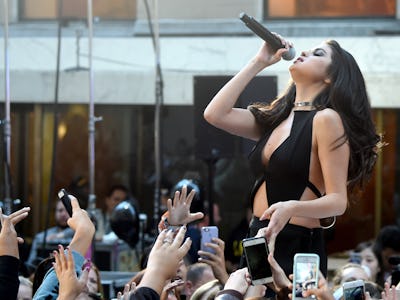 Jamie McCarthy, Getty Images 
Fall is here. That means it's time for all of the media to drown our poor unsuspecting souls. In an effort to help guide one through these trouble waters, here are some songs worth jamming out to this pre-pre-Halloween weekend.
In case you wanted to fall into emotional intimacy and regret this weekend, here is Selena's "Good For You." One may assume this is about the Biebz and if so eww/:(. But still. Gomez's newest album, Revival is a strong album from the singer, but still this is such a bummer. Cheer up Selena.
Is Raury the future? Is Raury the now? Who the hell is Raury? These are all questions. This is a sentence: "Devil's Whisper" is a pretty chill song from a pretty chill kid. #protectteens
It's been four years since Neon Indian put out their last record and this fact makes me feel old. In those four years, I've graduated from college and, well… lived four years of life. Neon Indian's new album VEGA INTL. Night School stands up right next to their previous two albums. A bit more brash, less reserved but still with the "lost in the '80s" vibe that's clearly now the sound of Neon Indian. "Annie" (above) was the first single from the album and remains the album's most memorable song. A bit commercial-for-an '80s-tropical vacation and bit-MTV-pre-"Thriller," it's the kind of song they could make forever.
Deerhunter have a new album out today called Fading Frontier, but I wanted to point to "Desire Lines" today. The new album is strong, but in case one hasn't heard too many Deerhunter bangers, I think "Desire Lines" is a good start. It's a bit long, but just get lost in the grooves, textures, and other adjectives used to describe guitars.