Who the Hell Is Raury?
Get to know the 19-year-old Atlanta musician.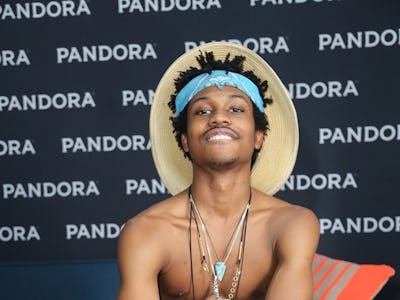 Rachel Murray/Getty Images for PANDORA Media
Raury is a 19-year-old singer/rapper from Atlanta. Last year, he self-released his first mixtape, Indigo Child, which earned him enough acclaim to land a spot in the XXL 2015 Freshman Class and a deal with Columbia Records. His debut album, All We Need, is out October 16 via Columbia and LoveRenaissance.
"God's Whisper" is the best example of Raury's anthemic ethos as of yet. Although billed as a rapper, Raury is at his best not when singing but screaming. The song features a simple guitar strum, powerful handclaps, and an earworm chant, "oh na na!" He wants to be the voice of a generation, proudly proclaiming, "I am the savior."
"Cigarette Song" has the same grandiose aspirations, but with an even better melody. There aren't any Arcade Fire-like singalong moments. Instead, he amps up the guitar (literally) to have electric backing his acoustic lead, giving some extra oomph to the song. In addition, the song is more emotional and relatable with Raury singing to the girl he likes.
Raury spends very little time rapping on Indigo Child. When he does, you hear his talent in fast-paced, wordy verses, as on "Superfly." Although scarce, the moments stand out, enough so that XXL tabbed him for the Freshman Class. On his freestyle for the hip-hop magazine, he sounds like he's restraining himself from singing. It's as if he cares so much about what he's saying that he just needs to belt it out. He doesn't need to rhyme, a nod to his noted influence André 3000. In the freestyle, he raps, "I heard you going to college and I know your momma proud / You gon' take a loan and get financial aid or something." Although the bars are almost entirely distinct, he raps them in the same exact cadence. He knows (or is at least figuring out) what he wants to say, and will mold the words to fit his preferred flow.
"Devil's Whisper" was the first song Raury released following Indigo Child. It's quicker than its counterpart — "God's Whisper" — and is sung from Lucifer's perspective, tempting Raury into indulgence. (It's a pretty similar concept to Kendrick Lamar's Lucy in "For Sale? (Interlude).") Additionally, he has a bona fide verse in the middle of the song. It's his best yet, with Raury tackling coming-of-age issues while still sounding self-assured.
With the announcement of All We Need, Raury released "Friends" featuring Tom Morello of Rage Against the Machine. It's a pleasant, happy song. The video focuses on a hitchhiking trip Raury took with his friend using Twitter to get fans to give him rides. It ultimately shows his age: "I was never disappointed 'cause everything was meant to be." His lighter songs are nice, but Raury really finds his voice when he goes darker and takes a harder look at himself and the surrounding world.
Raury's likely to find some commercial appeal with All We Need. In addition to Morello, RZA, Big K.R.I.T., and Atlanta rapper Key! are all set to appear on the album. RZA's cosign alone indicates some star potential for the singer/songwriter. His sound is representative of his generation: raised on indie rock, rap, and the fusion of the two. He wants the world — and as someone who's always had the internet at his fingertips — his music sounds like he knows he's about to grab it.