All Raury Needs: the Atlanta Singer/Songwriter's Quest to Shape the Future of Pop
Can Raury, the 19-year-old rapper and singer, cut through the noise with his major-label debut?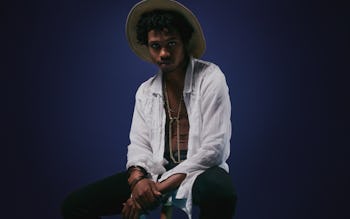 "You believe in yourself and things happen for you," Raury says. "Believe in yourself some more, more shit happens for you."
The 19-year-old rapper and singer is sitting next to me in the courtyard of the Thierry Goldberg Gallery in Manhattan, just a few blocks north of the Williamsburg Bridge. Inside, his management team LoveRenaissance and their partner Columbia Records are packing up after a pop-up listening party and art exhibit to celebrate the impending release of the rapper and singer's new album All We Need on October 16th.
"That's what the 'Crystal Express' is about. It's like the law of attraction." Raury continues, explaining the inspiration behind one of the record's many inspirational anthems — its military-drum-driven centerpiece — as well as the name of the national tour on which he will be embarking later this month. From Raury's description, he's the Pied Piper-like figure beckoning everyone aboard: "It's for kids, like some of my friends, who don't know where they belong, what they're supposed to be doing."
Just a few weeks out from his album touching down, the Atlanta-based musician is at a big moment in his career, and despite the spit-shine polish to his self-presentation, the view from the Express still seems new to him. He looks excited but a bit glazed-over as he greets fans — he's passively throwing peace signs for people's SnapChat stories while his management backs up the waiting line — in the lobby of the Goldberg gallery, dressed in a dark-colored deep-V-necked shirt, skintight black jeans, bead necklace, double-buckled black shoes, and the trademark tan sun hat he wears in every public appearance.
"If I drop this album and people love it, it opens the door for so many more young artists that are like me," he explains. In a brief speech given before the meet-and-greet, he respectfully requests that no one mention the album to him on the way out. It seems like a wake-me-up-when-we-get-there situation: He's waiting patiently for everything to unfold — for his expansive vision to realize itself — and he doesn't want to be disturbed. Though he acts like it's only a matter of time, one wonders whether he'll actually wake up as a trendsetter.
Raury hails from just outside of East Atlanta, in the rural suburb of Stone Mountain — the one from the "I Have a Dream" speech. His district is not a haven for the Gucci Mane-derived trap music with which the city is so often associated; it's the home of (among others) comedian and nerd-rap icon Childish Gambino and the indie-rock-informed producer de jour (and Raury collaborator) Dangermouse. Both are touchstones when tracing the roots of Raury's style, and, like him, islands unto themselves in the national hip-hop scene. Despite being something of an anomaly in his city, Raury has built a modest following locally. For the past two years, he mounted a mini-festival called Raurfest — this year, Mississippi rapper Big K.R.I.T. and Atlanta trap-lite collective Two-9 were among the guests — and last week, he headlined the main stage at Atlanta's biggest music festival, A3C, alongside Dej Loaf.
Raury gained his biggest public exposure from being awarded a coveted spot on hip-hop mag XXL's controversial Freshmen List last year (showing up for the shoot in a T-shirt reading "industry plant"), but he sings more often than he raps. Though heavily manipulated backbeats and expansive, hazy synth orchestrations eventually creep into all of his songs, at the center of each is an acoustic guitar.
Though to Raury the release sounds like mixed-up experimentation — a "project," instead of a capital-A "album," as he puts it — his debut mixtape Indigo Child from last year presents a very particular sound, like what a kid naturally disposed to write like Kid Cudi and Frank Ocean might come up with after heavy exposure to Bon Iver and the Where the Wild Things Are soundtrack. Some might call the songs cinematic or picturesque (The New York Times' Jon Caramanica praised Raury's "taste for the epic"), but to skeptics, the aesthetic might seem too tailor-made for an Apple commercial.
The campfire-ready atmosphere of Raury's music recalls the origin story for his famous hat, which — as he put it on Sway in the Morning last year — is reflective of the "immense appreciation for the world, especially nature" he gained through C5 Georgia Youth Foundation, a community leadership program which sponsors long nature getaways every summer. In C5, participants hike and camp their way through forests for a better part of the week with a counselor. Raury hastens to mention to Sway that Coca-Cola sponsors the program, which seems a puzzling thing to emphasize across multiple interviews. But then again, behind every utopia for young creatives in the modern world, there is a corporation making everything possible — more capital permits bigger, bolder enterprises. And Raury is clearly someone who wants "big" for everything he does.
At the three-room Lower East Side gallery, the relevant corporation is Columbia Records instead of Coke, and the assemblage is the appropriate focus group for a new Raury album: a crowd of 18-to-25-year-olds dressed in eye-catching combinations of expensive clothing that walk the line between crunch and streetwear chic. The walls are lined with paintings by Sage Guillory, one of Raury's favorite Atlanta artists, which come off like unsettling mid-century children's book illustrations. The titles bear the names of songs on the album — Raury says he "let [Guillory] listen to the album and give everything a wing." There are also crayon-captioned, over-saturated photos of important moments in Raury's recent past: stops on a car-hopping, social-media-propelled trip from Atlanta to Chicago earlier this year — as documented in his recent music video for "Friends" — his Anti-Tour promotional shows (haphazard performances done on the back of a truck outside of gigs by artists like Gambino and Tyler, the Creator), and shots with Outkast and Lauryn Hill.
All of the art helps lend Raury an air of a gregarious modern folk hero, one who is unafraid to walk off his Twitter feed and into your living room. A diminutive likeness of him lurks in the background of many of Guillory's paintings, like a saintly Huck Finn. The gallery event is — like the Anti-Tours and the "Friends" video trip — just another way for Raury to create fluidity between private and public worlds, "celebrity" and fans, IRL and URL, the technologized and the organic. The assembled company at the Goldberg listens to All We Need on synchronized personal players and Beats over-ear headphones (the tools of the silent disco), while scrutinizing the paintings.
The strange, ritualistic feeling of being separate and together at the same time feels very in line with the principles of Raury-ism. Gallery-goers could take off an ear, listen to the small, naturally reverberant sounds in the room, or have a quiet moment with the art. Most people, though, sat on the floor — I was next to a pillar with sunflowers laid around it — nodding their heads seriously to the clap-trap and occasionally grinning at resonant cracks in the music and "DJ Smooth Jazz"-hosted skits.
This dichotomy between forward-thinking savviness and traditional forms of expression is also central to the music on All We Need.
"I consciously made sure [the album] had elements of folk, and elements of futuristic music," Raury explains excitedly, "It's 2015, and at the same time, we all need something that is classical-sounding like folk… with that earthy feeling and humanity you get from a guitar, and the excitement that you get from doo-doo-doo-doo-doo, doo-doo-doo…" He imitates the sound of a percolating synthesizer arpeggiator.
Raury is more inclined to discuss the intended effect of the music; the particulars become hard for him to verbalize, though you can see the genuine fire in his eyes when he talks about them. He's overwhelmed at the thought of his "Oh, shit" moment while making the genre-hopping album. This came during the production of "Trap Tears," a tribute to his hometown which juxtaposes inner-city character studies with feathery guitar licks and stuttering street-rap hi-hats. "I was at a point where I could do anything," Raury explained. "I knew I wanted to use folk as a weapon that I could bring into trap, EDM, or into frickin' flamenco, like Gypsy Kings-type music."
This kind of revolutionary-styled rhetoric — one thinks of Woody Guthrie's "This Machine Kills Fascists" — hints at Raury's ideal for art. He bloviates a bit about the importance of "making music that was less about me, and more about we," and indeed, All We Need, from back to front, has a distinctly motivational bent. "What do we need to know, and what do we need to hear?" he goes on. "We need to inspire the younger kids that you know to make music with a message." He name-checks two pals that are doing this always: actor and MC Jaden Smith (they had hung out the previous night) and "Golden Age" hip-hop revivalist Joey Bada$$ and his Pro Era clique (member CJ has also produced for Raury).
It's easy to wince at some of these overeager platitudes, but it stands to reason that Raury would be all idealism at this point. He's had tremendous and unlikely success so far, gained cosigns from unconventionally-minded stars like Cee-Lo, RZA and Mac Miller, and waltzed into a partnership deal with a major label without a charting or even viral hit (today, the YouTube plays for his 2014 breakthrough song and video, "God's Whisper" linger just a bit over one million). Nowadays, he's gigging and promoting internationally, and made his network television debut last month: a noted Colbert appearance complete with a trending Trump dis.
The model seems old-fashioned: An emerging musician with crossover possibilities is snatched up, before having provided hard proof of their viability. In an age when the only safe bet for a major label seems to be to capitalize off of one early, successful moment in an artist's career, Raury has been gifted with the rare opportunity to develop more linearly and — comparatively — gradually as an artist. Why would a label like Columbia bank on this?
Because they've done it before, Raury's co-manager Jacob argues. As he told Pigeons and Planes last year: "[Columbia has] a way of taking culturally cool shit and making it huge. They have the MGMTs of the world, Pharrell, Daft Punk, Adele — all of these things that kind of live in the lane that Raury could one day be." Presumably the label sees the possibility for album sales — if not huge radio singles — in Raury, who comes in the wake of artists in the same general radius who have cast an unexpectedly wide net demographically: Gambino, Kendrick Lamar, and Chance the Rapper.
It remains to be seen if he will truly resonate that way with a huge audience. But Raury seems confident that his unorthodox approach will clear all hurdles. "Yo man, a shift is coming. Young kids like me… that are talking about something: We have a place here," he emphasizes. "Not just in the culture but in the market, on the radio and everywhere. This is what the times are about to become."
I think back to the meet-and-greet we've just left, where two awkward teenage boys approached with a portrait they had done of Raury in half-profile, like some propagandistic painting of Napoleon. A girl with a pet ferret reminisced with Raury about meeting him in an ice cream parlor — Raury seemed to remember only when she clarified that the ferret was white — and a lanky sun-hatted dress-alike had to nearly be pulled out of the door by Raury's team to move the queue along. A near-apoplectic blonde-haired girl with a multicolored headband and flowing skirt bear-hugged Raury for a few moments. "You make me feel like it's okay to be 19 and care about it," she exclaimed, with the nervous air of someone who had practiced for this moment.
There's no hard data to indicate whether, in a few months or years, Raury will be the movement he so desperately wants to be. "Young people who aspire to be positively influential toward the world — we're all finding each other. We don't even need to say it. What is understood doesn't need to be said." He beams and adjusts his hat. "Can't wait to see everyone when we're 25.
All We Need is out today.