'Goosebumps' Gone Wild: This Weekend's Box Office Predictions
'Goosebumps' and 'Crimson Peak' should add some much-needed screams, while 'The Martian' continues to soar.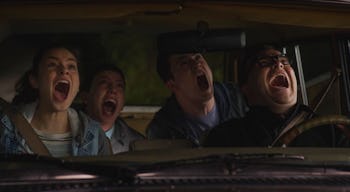 www.goosebumps-movie.com
The mid-October box office shows no signs of slowing down. While there shouldn't be any big milestones broken, the sheer variety of movies to see right now is impressive. Take your pick of movies from Steven Spielberg, Ridley Scott, Guillermo del Toro, and Robert Zemeckis, for starters. You've got lots of choices to make, but here's what to look forward to at the movies this weekend.
What Will Win: Goosebumps
Don't ever underestimate the kids. The bedrock of the box office is parents taking kids to see a movie no matter what is showing that week. Quality be damned — children travel in packs. It's why Minions became a surprisingly gigantic hit and the reason why Hotel Transylvania 2 broke out at the top of the box office a few weeks ago. But now, it's Goosebumps' turn. This unique take on author R.L. Stine's youth horror series Goosebumps sees actor Jack Black starring as a fictionalized version of the author who must team up with his daughter and her friend to stop monsters from his stories who have broken free of his pages and run amok in the real world. The story is equal parts Ghostbusters and Jumanji, and the reviews of it so far have been enthusiastic. It won't break any records, but look for it to capitalize on the nostalgia from older people who read the books and the kids curious about getting spooked at the movie theater before Halloween. It should scare up around $25 million this weekend to take the top spot.
What Will Disappoint: Crimson Peak
We love director Guillermo del Toro's luscious gothic horror(ish) film Crimson Peak here at Inverse HQ, but it's hard to believe that broad audiences will embrace it. Del Toro is a favorite among a certain Comic-Con set, and he may be coming off the biggest smash of his career with 2013's Pacific Rim, but he still hasn't hit the mainstream in a way that converts to big box office receipts. Granted, Crimson Peak is a slow-burning throwback for a specific crowd that should leave teenage horror fans used to Paranormal Activity scratching their heads, so it wasn't aiming for universal appeal to begin with. Maybe more mature moviegoers will get in the Halloween spirit and skip Goosebumps for this, but we're not counting on it. Crimson Peak should pull in around $15 million its opening weekend.
What Will Surprise People: The Martian
We've written about The Martian to death, so we'll keep this brief. The science-heavy Mars thriller is still going strong in its third week of release. That kind of staying power doesn't happen that much anymore, so it gives you an idea of just how good Ridley Scott's movie is. Though it probably won't be on top for a third week in a row, it'll have enough of a run to eventually beat out The Bourne Ultimatum to become Matt Damon's highest grossing film.
What's On the Horizon: The Last Witch Hunter
Will a movie starring Vin Diesel without speeding cars be able to make any money? Probably not, but you can't blame Mr. Diesel for trying. Who knows, maybe some of that Fast & Furious clout will rub off on this bizarre looking Highlander-meets-Van Helsing camp-fest.