A 'Gorgeous George' Biopic Is in the Works
The trailblazing TV star and wrestler's life will be written by the comedian and his writing partner.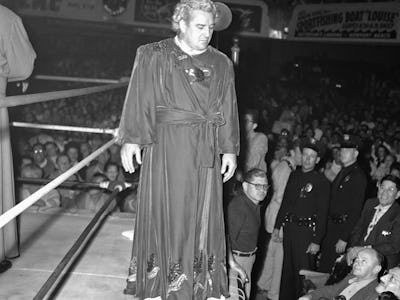 blogs.dailybreeze, AP
After The Wrestler with Mickey Rourke, it was a little surprising that the bizarre world and history of pro wrestling wasn't mined for more dramatic biopics or Oscar-bait pictures. It's even weirder when you realize that WWE has its own indie film studio that has focused more on genre and direct-to-DVD action movies.
But that changes today, as WWE Studios have announced that Josh Gad and writing partner Ryan Dixon are penning the script to an upcoming Gorgeous George biopic.
Born George Raymond Wagner in 1915, "Gorgeous George" was a landmark talent, among the first in pro wrestling to adopt a loud personality which is basically today's pro wrestler default mode. But when Gorgeous George did it, he knew its true purpose: Sell some damn tickets. When Muhammad Ali was just 19 years old, he met Gorgeous George who gave the future boxing legend invaluable advice about show business: "A lot of people will pay to see someone shut your mouth. So keep on bragging, keep on sassing, and always be outrageous."
In 2010, Gorgeous George was posthumously inducted into the WWE Hall of Fame. He died in 1963 at 48 of a heart attack.
An attached director, star, a release date, and even a confirmed title are still unknown.