CIA Psychologists Sued for 'Illegal Human Experimentation'
They are far from the only psychologists who have been complicit with torture.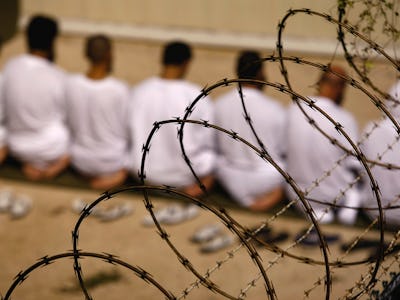 John Moore/Getty Images
The American Civil Liberties Union, on behalf of three former CIA prisoners, is attempting to bring about the first legal reprisal against psychologists involved in post-9/11 torture programs.
Today, a suit was filed against James Mitchell and Bruce Jessen, seeking compensatory damages of at least $75,000. The pair, who charged $180 million for their work, designed and implemented the CIA's torture program, which they claimed was based on psychological studies. The ACLU alleges that Mitchell and Jessen "performed illegal human experimentation on CIA prisoners to test and refine the program."
Suleiman Abdullah Salim, Mohamed Ahmed Ben Soud, and a representative of the estate of Gul Rahman are the three men represented by the ACLU, none of whom have officially been charged or accused by the U.S. government. Rahman froze to death in a CIA black site in Afghanistan, his body unreturned to his family for burial.
In 2005, Mitchell and Jessen formed their company, Mitchell, Jessen & Associates, which was contracted by the CIA to run its torture program, supply interrogators, and security for black sites. Their interrogation process was informed by a 1960s experiment in which dogs were taught to become helpless through systematic abuse. They have also been accused of "reverse-engineering" elements of the U.S. military training program, "Survival, Evasion, Resistance, Escape." Jessen and Mitchell had previously been Air Force trainers of this program, which had also been used to produce false confessions by Communist China during the Korean War and has not been proven to work as an interrogation technique. Some of their methods used in the CIA-backed programs included depriving prisoners of sleep, water torture, and starvation.
"They claimed that their program was scientifically based, safe, and proven, when in fact it was none of those things," said Steven Watt, a senior staff attorney with the ACLU Human Rights Program in a press release. "The program was unlawful and its methods barbaric. Psychology is a healing profession, but Mitchell and Jessen violated the ethic code of 'do no harm' in the some of the most abhorrent ways imaginable."
As psychologists, Mitchell and Jessen have been vilified. But they were not alone in using their status as psychologists to benefit from a war paradigm.
"As far as I'm concerned, what Mitchell and Jessen did was horrific and they need to be sued. I'm only surprised that it took so long for someone do it." Dr. Frank Summers, a professor of clinical psychiatry and behavioral sciences at Northwestern University, tells Inverse.
"But I think there has been too much focus on them, as they are not solely the issue here. The issue is that the core structure of the American Psychological Association colluded with the military to make sure the ethics code was what the military wanted."
After 9/11, the U.S. government constructed a fundamental shift in the way it fought terrorism and turned its focus to psychology. A relationship between the military and the APA had existed since World War II but, Summers believes, the APA saw post-9/11 intelligence efforts as an opportunity to become a major player.
"They looked at Guantanamo and other detention sites as opportunities for employment for psychologists and for psychology to become the discipline that the military would go to when learning how to acquire intelligence," says Summers. "At this time they were publicly arguing for the importance of psychology in the military while they were profiting from this very relationship."
In 2004, Summers was part of a very small minority of the APA who believed that their organization, spurred by years of financial support from the Department of Defense and the CIA, was unethically bound to these branches. But an independent review of the APA released this July revealed that key APA officials had been in close collaboration with the CIA and DoD and subsequently maintained loose ethics policies that satisfied them.
Some key findings include: The knowledge that the APA had substantial interactions with the CIA from 2001 to 2004 on topics related to interrogations, that the 2005 APA Ethics Director Stephen Behnke sought pre-clearance on the APA's position on various topics from senior psychologists within the U.S. Army Special Operations Command, and that APA officials worked in collaboration with members of the DoD to stop resolutions that would keep psychologists from participating in interrogations at Guantanamo Bay.
Since the revelation of this report, the APA has passed a resolution that psychologists cannot conduct, supervise, or assist national security interrogations in any way. In a statement, the APA's president-elect, Susan McDaniel, indicated that the APA needs to continue to be more transparent and focused on human rights.
"I think it's a good start," says Summers, speaking to the new resolution. "It is a complete reversal of the organization. But I believe we need to continue to move on — look where psychologists are in the black sites, and get them out of there.
As for Mitchell, he still believes he is "just a guy who got to do something for his country by people at the highest level of government, and I did the best that I could."