Twitter and Facebook Are Windows Into Personal Health
Social media feeds say a lot about our health, and scientists are taking note.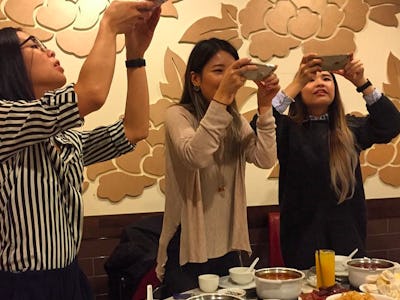 https://instagram.com/p/2dh_HGtih_/
Everyone's got that annoying social media friend that posts endlessly about their dinners and hashtags everything as #foodporn.
That irritating feed could be a very useful window into a person's personal health, a new study from the University of Pennsylvania School of Medicine suggests.
Publishing in the journal BMJ Quality and Safety, the researchers proposed a link between a person's Facebook and Twitter feeds and their health.
The idea is that the language we use online, together with the photos and information we post, could offer very personal insight to physicians — more personal than a face-to-face conversation.
Adult participants in the study were willing to share their social media data. Over 1,400 patients checked into a hospital emergency department consented to share their social media feeds as well as their medical records with the researchers over 7 months to help build a research database. The team analyzed data from 2009 onwards, which added up to 1.4 million Facebook posts and tweets or 12 million words.
Tweets as direct as "I forgot to take my water pill for my heart failure today" are obviously very useful data, but even more subtle posts, such as photos of massive burgers or heavily salted fries, could provide important health data. Changes in the size of a person's social network could signal depression, and even changes in language could alert physicians to the onset of cognitive decline.
The study also found that patients officially diagnosed with a medical problem were more likely to use terms relating to that issue on social media compared to their healthy counterparts. For instance, 21 percent of individuals officially diagnosed with abdominal pain used the terms "stomach pain" and "belly ache," while only 8 percent of pain-free individuals did.
The study — the first to suggest linking social media and health data — makes a strong case for using language databases based on social networks as tools for assessing individual and public health.