Will the Volkswagen Emissions Movie Live Up These Corporate Scandal Films?
Can somebody please get Aaron Sorkin on the phone?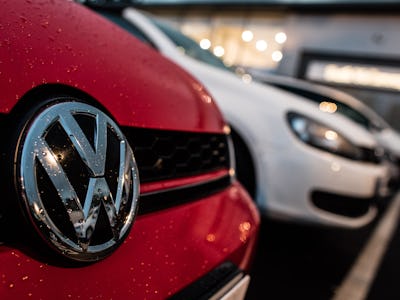 Matt Cardy/Getty Images
Not even one month after the news of Volkswagen's emission scandal broke, Paramount Pictures has optioned the movie rights to a book about the company and its wrongdoings.
The movie will be based on Jack Ewing's to-be-written book on Volkswagen for W.W. Norton & Company.
Although no details about the prospective film have emerged, it will, of course, center around the German automaker's deliberate manipulation of its vehicles' "test mode" to pass the Environmental Protection Agency's inspection. Volkswagen's U.S. CEO has admitted to cheating the tests, and the company will likely face as much as $18 billion in fines.
Currently, without a book as a guiding force, it's not clear on which aspects of the controversy the film will focus. Paramount should probably call up Aaron Sorkin, though, who's penned scripts for films about monumental events (The Social Network and Steve Jobs) that focused on the characters, not the hoopla surrounding them. Regardless of director, the future Volkswagen film will join a list of movies detailing corporate greed. Here's a sampling of some more memorable members of the genre.
'Enron: The Smartest Guys in the Room'
Yes, it's a documentary, but Enron is the gold-standard for corporate corruption. With greed so rampant and calculated, the Enron scandal didn't need to be dramatized to convey the absurdity of the situation.
'Wall Street'
If Enron's the real-world standard-bearer for corruption, Michael Douglas' Gordon Gekko is the platonic ideal. Ruthlessly after money and success at anybody else's expense, he is the symbol for corporate culture in America.
'Food, Inc.'
Traders don't get all the corruption fun! The 2008 documentary uncovers the inner workings of the food industry to show that, yep, the man behind the curtain is controlling how we eat. Unlike the other films, though, there's no particular villain and no comeuppance to be had at the end.
'United Passions'
United Passions, more likely known as "The FIFA Movie," is a propaganda film about FIFA's creation, released around the same time as several FIFA officials were arrested on corruption charges. It had a budget of about $30 million and grossed just $319 on its first day in theaters. United Passions is not about corruption. It is corruption.