'The Flash' Season 2 Trailer Is Late Hype
For a superhuman speedster, this trailer arrived awfully tardy.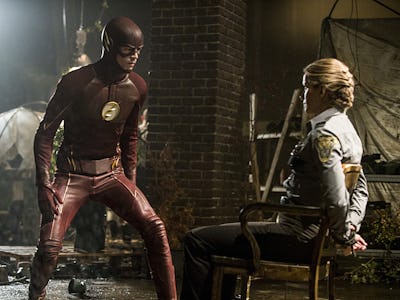 The CW Networks
For its second season, The Flash needed no outrageous promotion — it's a ratings killer on The CW even compared to sister series Arrow. Still, a nifty trailer would have been appreciated to gratify anticipation. All summer, fans only had a few teasers.
At New York Comic-Con, The CW finally gave fans what they needed months ago with a meaty sizzle reel showing off the new big bad Zoom and the metahuman bad guys Zoom compels to do his bidding. Jay Garrick is also shown off more as the parallel Flash, and Captain Cold and Heat Wave continue to do their thing before Legends of Tomorrow. We also see the true introduction of Kendra Saunders, aka Hawkgirl.
There's also the definite, totally-happening second year team-up of Oliver Queen and Barry Allen as the (now Green) Arrow and The Flash. If it was anything like last season, it's bound to be the clear highlight of the season.
The Flash airs Tuesdays at 8 p.m. EST on The CW.