'The Force Awakens' Won't Be 'Disney-fied,' Says J.J. Abrams
In a recent interview, the director confirmed that he has final cut on the movie.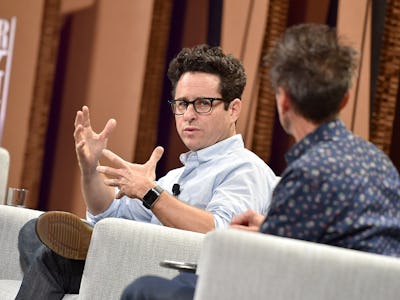 Getty Images
Star Wars: The Force Awakens director J.J. Abrams sat down for a sort of meeting-of-the-minds interview with Apple designer Jony Ive, moderated by film producer Brian Grazer for Vanity Fair last week, and he let loose a whole mess of new details about the upcoming blockbuster. The most pertinent news that Abrams admitted was that not only does he have final cut on the movie, but also that executives at Disney have given him enough creative space to deliver them their multi-billion dollar baby.
Here's the whole hour-long discussion if you have the time:
In the middle of the interview, Glazer simply asked Abrams whether he had the last word on the edit of the 124-minute movie. Abrams confirmed that tidbit with a straightforward, "Yeah, yeah." But then he went on to add, "But when you do a Disney project, there's a clause in there that you kind of go, 'Well, if I were a lawyer I could probably drive a truck through it…'"
So it seems Abrams has the final say, but if he did deliver a clunker then Disney could have cut through the red tape and done damage control. Thankfully that hasn't happened.
The comments are a fascinating look into the leeway that certain filmmakers on humongous franchises get, and everything that Abrams says backs up the idea of the healthy collaboration he's had while facing the challenge of bringing a new Star Wars movie to the screen. Granted, this wasn't the place to air dirty laundry, but Abrams' comments that Disney head Bob Iger "mandates nothing" on these movies and that "they let us make the movie we wanted to make" also highlights another comment by Abrams.
Later in the conversation Abrams says:
"I cannot say enough about how Bob Iger and Alan Horn have understood this thing that is now part of the Disney company. And they're not trying to Disney-fy it, they're not doing anything other than, I think, an incredibly smart thing, which is letting Kathleen Kennedy — who is a remarkable person and producer — run and lead Lucasfilm to a place where I think it wants to go."
Star Wars won't be Disney-fied, which is a little backwards considering the merchandise machine of the galaxy far, far away most likely informed the way Disney markets its own properties to death. But the sentiment is still important. Abrams stresses that The Force Awakens is trying to harken back to the feeling of the original trilogy above all else. By doing things like recruiting Empire Strikes Back and Return of the Jedi scribe Lawrence Kasdan and stressing practical effects, Abrams ensured his fanboy vision, and not Disney's, would make it on screen.
Despite the fact that we're praising billionaires here, it's good to see that Disney is leaving it up to the creatives when there's so much on the line. The Force is with them.