Ron Howard Will Produce Live-Action 'Tiger & Bunny' Movie
The Japanese superhero comedy anime is going Hollywood.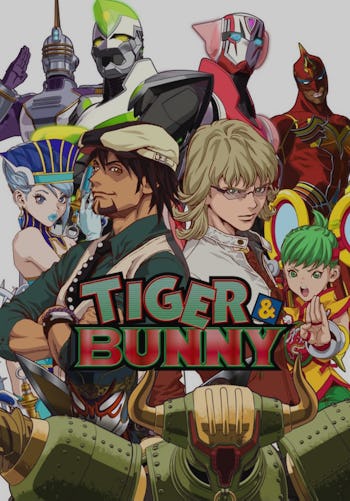 Viz Media, Sunrise
At the joint SUNRISE and Bandai Namco panel at New York Comic-Con today, the studio announced that production of a life-action, English-language feature film of the superhero anime Tiger & Bunny is underway. Apollo 13 director Ron Howard is on board as producer.
The movie is one of the premier projects from ANEW, a development company that is adapting Japanese sci-fi, fantasy, and anime franchises into global (read: Hollywood) properties.
"We could not be more excited about producing Tiger & Bunny with BANDAI NAMCO Pictures and ANEW," said Ron Howard in the press release. "When ANEW brought us the project, we fell in love with the concept immediately. It was fresh, a huge success in Japan, and we had never seen a great buddy story bring together so many uniquely compelling elements."
Tiger & Bunny is a superhero anime that first aired in 2011. In the near future, superheroes fight crime while rocking corporate sponsorships. The old-fashioned veteran Kotetsu T. "Wild Tiger" Kaburagi is reluctantly paired with hot-shot rookie Barnaby "Bunny" Brooks Jr. in a sci-fi send-up of '80s buddy cop movies.
"Barnaby and Tiger are immensely dynamic characters, with a psychologically complex relationship with one another" said Howard. "It will be an honor to bring them to the global audience of film lovers."
ANEW Senior Vice President of Development and Production Annmarie Bailey said in a statement that the film has the blessings of its original anime creators. "It was a Herculean team effort, but after actively pursuing the live-action rights, we are honored that the director Keiichi Sato, producer Masayuki Ozaki and the original creators have put their trust in us to share these much-loved characters to a whole new audience."
In addition to Tiger & Bunny, ANEW has begun work on producing more English-language films based on popular anime. In the same press release, ANEW announced Gaiking, SOUL ReVIVER, and Ghost Train as future slated projects.