Marvel Announces 'Ant-Man and the Wasp' for 2018 
The studio also announced plans for MCU's Phase Four.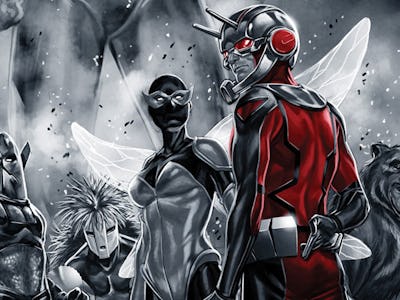 Marvel
When it was released earlier this year, many Marvel fans wondered whether the comic empire would deem Ant-Man worthy enough for a movie sequel. It only barely passed the first Captain America film to be the third lowest grossing Marvel movie ever. But today, news broke that Paul Rudd's Scott Lange will shrink on the bigscreen again, and he won't be by himself.
Marvel Studios announced a sequel called Ant-Man and the Wasp, which will hit theaters as part of Marvel's Phase Three on July 6, 2018, putting it in a prime summer blockbuster spot. It also means that Evangeline Lilly's character's alter ego is now a marquee name in the MCU. She beats out Captain Marvel as the first female superhero in a Marvel movie title.
The announcement also shakes up the MCU's previously announced slate. Black Panther — previously announced for the July 6, 2018 spot — will shift up to February 16, 2018, making it the earliest calendar date release for a Marvel movie yet. It's also an indication that the project is farther along than first thought, meaning a director should be announced any day now.
Captain Marvel, still the studio's first solo female-led movie, will be pushed from November 2, 2018 to March 8, 2019. That'll put it snuggly in the middle of Avengers: Infinity War Part I on May 4, 2018 and Part II on May 3, 2019.
If that wasn't enough, the studio also announced plans for the MCU's Phase Four in 2020. Three unannounced movies have been slated for May 1, July 10, and November 6 respectively. Let the nerd speculation begin.