The History of the Long-Gestating 'Beetlejuice' Sequel
The story behind the two-decades-in-development sequel to 'Beetlejuice' that we still haven't seen.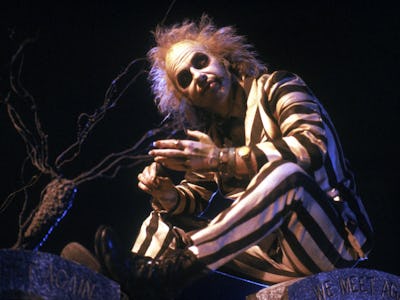 Repeat the name of the world's leading bio-exorcist three times and he shall appear. Beetlejuice. Beetlejuice. Beetlejuice. Or so says the lore. If you were to chalk up the number of times his name has been uttered in the last two decades and translate that into onscreen appearances we'd be on Beetlejuice 27 by now. As it stands, the long-rumored sequel remains in early development.
That's not to say Warner Bros. didn't attempt to fast-track the sequel in 1990.
'Beetlejuice Goes Hawaiian'
Sounds deliciously campy, no? A playful poke at the silliness that ran rampant in the 1988 original, Tim Burton created the outline for what would eventually become a 126-page screenplay by Jonathan Gems. "Tim thought it would be funny to match the surfing backdrop of a beach movie with some sort of German Expressionism, because they're totally wrong together," Gems told Fangoria reporter Anthony C. Ferrante in 1997 (who thought the notion was worth exploring in his cinematic debut Sharknado.)
Announced in 1990, the movie was positioned as a direct follow-on from where the first film left off. The studio rushed development after Beetlejuice turned a sizeable box office profit, beefing up Warner's coffers by around $60 million. Michael Keaton and Winona Ryder were scheduled to return as Beetlejuice and Lydia respectively, alongside Jeffrey Jones and Catherine O'Hara as Ryder's bumbling parents. The story picked up several years later, as Lydia makes her way to Hawaii to visit her father's latest construction project — a casino and resort located directly above the resting place of a sacred Hawaiian priest. Spirits are woken from their eternal slumber to wreak havoc on Charles and so Lydia, the wonderfully macabre teen that she is, journeys into the afterlife to seek Beetlejuice's help. He returns to Earth and smoothes things over by winning a surf contest. Esoteric, funny, and random, it was the perfect concoction for Beetlejuice Part Deux.
Everyone attached was understandably eager to push on, until Burton received what Gems called "an offer he couldn't refuse" from the studio. Complete creative control over Batman Returns. As anyone with a passing interest in the moviemaking process knows, that type of artistic freedom? Rarer than rocking horse shit. Burton leapt at the chance, taking Keaton along with him.
With Burton out of the picture, the studio pursued other writers to work on the script. Why that work of glorious inanity needed tinkering with is a mystery. Kevin Smith was amongst the select few approached to take a shot at it, telling fans during one of his stand-up shows his reasons for turning it down: "Didn't we say all we needed to say in the first Beetlejuice? Must we go tropical?"
Gems' script for Hawaiian has since entered the annals of cult fandom. Copies still surface from time to time on eBay, along with another lesser-known script by Beetlejuice scribe Warren Skaaren. Dated July 1990, Beetlejuice In Love hasn't generated the same amount of interest as Hawaiian; it doesn't even get a mention in the film's lengthy sequel section on Wikipedia. Which is strange, as it's a far more cohesive work that's received rave reviews. In this alternate sequel the Deetzes are replaced by a new family who come to rely on Beetlejuice. However, he's stuck where the ending to the first film deposited him: the afterlife. That entire world dominated mere moments in the 1988 film — perhaps the result of editing — but it's clear from Skaaren's constant returns to its deranged and delightful locales, that it's a place his sequel fully intended to explore.
The project lay dormant for close to 15 years. It wasn't until 2011 when Warner Bros. decided to drag the idea up from the cellar; however neither Gems' nor Skaaren's scripts survived the journey. David Katzenberg and Seth Grahame-Smith brokered a deal with the studio to produce and write a fresh sequel. "When Warner Bros. came to us about it, we said the only way we'd do it if we got Tim [Burton's] blessing and involvement," Grahame-Smith told EW, "and we got that, and the star of the movie has to be Michael Keaton as Beetlejuice, and it's a true continuation 26 years later. Not just throwing him in as a cameo going, 'Hey, it's me. I endorse this movie.'"
Concern over the remake-reboot tag — a surefire way to enrage fans — plagued the screenwriter for some time. Interviews over the next two years are dotted with his assurances that it won't be a cash cow sequel. Grahame-Smith tapped out several drafts of a script during that period, taking to social media to clue in fans as to its progress. In 2013 this image stirred up rather a lot of chatter:
Burton Back
During the latter half of the year, Burton's name started creeping into news stories, connected to the sequel. He'd already given Grahame-Smith and Katzenberg his blessing, that wasn't an issue. Now his name was in the hat to direct. And the floodgates opened.
Cautious before, Burton was now gunning for the job and his main man Keaton casually agreed that he'd be back — but only if Burton was 100% confirmed. And even that might take time.
"We don't have a script yet," he told MTV in late 2014. If that's the case then what exactly had Grahame-Smith been working on? Keaton added that he'd met with the writer and given him pointers on sequel-writing, before telling the reporter the brilliance of the original wasn't anything to do with the screenplay, or the hard efforts of its scribes, but the magic conjured on set between he and Burton. The baffling comments continued into December 2014 when Burton confirmed that there was a script and production on the movie was "closer than ever."
What Happens Next?
Without an official confirmation from the producers or the studio, there's no clear-cut answer. Burton is supposedly eyeing it as his next project after he wraps Miss Peregrine's Home For Peculiar Children. Ryder, who has been cautiously absent from this history for fifteen years, confirmed in September that the film was headed into production — and she's in it. Naturally, word spread like wildfire, eventually reaching Geena Davis, who'd also like to be considered for a role.
With a script, a director, stars, and support from a major studio, it's a wonder why the Beetlejuice sequel continues to evade audiences. "I think we landed on the right idea," Grahame-Smith told EW earlier this year, "landed on the right approach. It's just now making sure that—for me—I don't want to shit my pants in front of the entire world making a sequel to one of my favorite movies." Sounds like he wants to get it just right. Can't fault him for that.