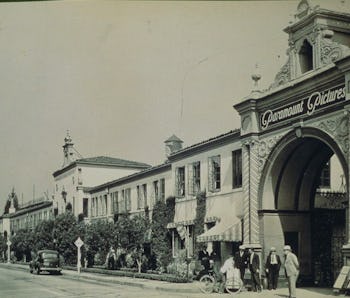 Entertainment
15 Movie Gems You Can Watch for Free on Paramount Pictures' YouTube Channel
Sadly, 'Ghost' isn't included.
Paramount Pictures has launched an official, 100% bona-fide YouTube channel packed with free full-length movies.
"The Vault" offers 100+ titles from the studio's back catalogue that's naturally absent of the studio's major moneymakers. This isn't a move to combat online piracy. This is an opportunity to give audiences a helping hand in their cinematic education. You've got to wade through a selection of dreck before you get to the good stuff — most of which is in standard definition — but don't worry, we've done the heavy lifting for you. Read on for our top 15 picks.
'Bound'
Bound is the Wachowskis' at their pot-boiling best. A stylish, visually adventurous crime caper produced as a kind of "dummy run" for the studio before they were handed the keys to the kingdom on The Matrix. Watch for a surprisingly good performance from Jennifer Tilly.
'Ironweed'
Jack Nicholson and Meryl Streep play a couple of homeless alcoholics during the Great Depression. He's a washed-up baseball star whose past continues to haunt him as he wanders the streets of Albany trying to find work, occasionally shacking up with his on-off lover. Not quite as lightweight as Heartburn — the Nicholson-Streep comedy from the previous year — yet worth checking out for two of their most underrated performances.
'Hamlet'
Mel Gibson might not be the most obvious choice to play one of Shakespeare's most nefarious figures, and yet there's a reason Alicia Silverstone quotes him in Clueless. Directed by Bard enthusiast Franco Zefferelli — behind the Olivia Hussey '60s adaptation of Romeo and Juliet — it also features a stunning score from Sergio Leone's go-to composer Ennio Morricone.
'The Loved Ones'
Rocking a 98% Rotten Tomatoes rating, this Australian high school gorefest takes its cues from the French new wave of horror. A teenage lad turns down one of his classmates when she invites him to the prom, later regretting his decision when she kidnaps and tortures the poor kid in her grotty family homestead.
'King Creole'
One of Elvis' first forays into acting is arguably his best movie. The King gets embroiled in a plot involving gangsters playing a teenager whose attempts to make ends meet finds him in a spot of bother. A massive hit with critics and fans.
'Margot At The Wedding'
Another of Noah Baumbach's emotionally-heavy dramas inspired by his own family. Jennifer Jason Leigh and Nicole Kidman play Pauline and Margot, two estranged sisters who reunite at the former's wedding. Both are rather distant and self-serving, turning the weekend into a nightmarish rumination on sibling politics.
'The Stooge'
Dean Martin and Jerry Lewis top-line this jaunty comedy musical, with the latter playing the comedy foil to the former as part of a vaudeville double act. Lesser known than the duo's other outings, it's nevertheless a fun frolic. It's interesting to revisit knowing that the studio originally held it back from release due to the way Martin's character behaves towards Lewis.
'I Married A Monster From Outer Space'
With a title so brazen and outlandish this cult sci-fi horror sounds as though it might share a passing similarity to John Carpenter's Starman… but it doesn't. Lumped in with many sub-par '50s paranoia flicks, it manages to ground itself in good performances and a clutch of genuinely scary moments as a housewife (the "I") discovers her husband's sudden change in behavior is the work of aliens.
'Love Streams'
Not every movie is granted a Criterion Collection Blu-ray release. That fact alone should serve as an indicator of quality when it comes to watching Love Streams, Nick Cassavetes' brilliant 1984 drama starring he and Gena Rowlands as a grown-up brother and sister who come to terms with their shortcomings together. A shame U.S. audiences weren't granted the same melodramatic flourishes as France, where it's known as Torrents D'Amour.
'No Man Of Her Own'
Everyone loves a stolen identity yarn. And especially when Barbara Stanwyck's involved. This '50s piece places her unmarried pregnant damsel on a train that later suffers a terrible crash. She is mistaken for a fellow passenger — also pregnant — who died during the collision and so begins this over-the-top slice of melodrama. It's no Sirk but don't let that deter you.
'The Texas Chainsaw Massacre 2'
Every cinephile needs schooling in the ways of the terrible horror sequel. The pointless returning characters, recycled story, and generally incomprehensible plotting are the backbone of every awful second chapter. This fulfills every item on that checklist, plus, it stars Dennis Hopper as the lawman investigating all the skin-stealing shenanigans.
'The Miracle of Morgan's Creek'
A little-seen screwball gem, Preston Sturges' '40s romp stirred up quite a bit of controversy back in its heyday, as its leading lady is a single gal who shacks up every night of the week with a different gent.
'King Solomon's Mines'
This '80s action adventure is the fourth go at adapting the classic novel. It wishes it packed the starry clout and assured sass of Romancing The Stone, but it's still a riot watching Richard Chamberlain star opposite Sharon Stone.
'The Devil and Miss Jones'
Way before Undercover Boss paved the way for all sorts of nonsensical reality TV fare, there was The Devil and Miss Jones in which Charles Coburn plays a bigwig CEO who infiltrates his own company to better understand the plight of his underpaid work force.
'Masters of the Universe'
Going out with a solid B-movie that also lands itself firmly in the 'so-bad-it's-good' category of appreciation, Masters of the Universe is a cult classic for a reason. The performances are hammy, the plot catastrophic, but there's still something that keeps you glued to the escalating silliness of He-Man 'til the credits roll. Karg's hair, I think.