1,000 Germans Will Play 'Settlers of Catan' Simultaneously
Seriously, nobody has any wood to trade?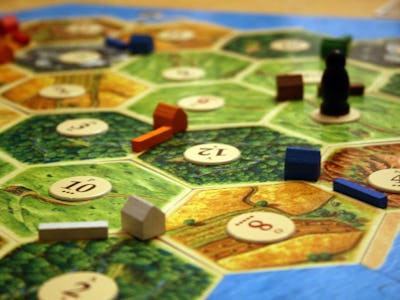 Flickr.com/MK Campbell
To mark the 20th anniversary of Settlers of Catan, the board game that sparked the Euro-game revolution and a thousand petty squabbles, a bunch of cardboard jockeys will attempt to set a world record on Saturday. A thousand players will join together to play a single, incredibly convoluted game. The longest road will be epic.
Giant games of Catan have been played before, generally on an elongated board with a moderator calling the dice rolls, but the previous record stands at a meager 922. Saturday's gathering of Catan players will take place in Essen, Germany, at the board game convention Spiel, which kicked off Thursday. Spiel is the largest of its kind around, having drawn in 158,000 people last year with the promise of many dice and bratwurst. If you were to try to find 1,000 players to roll bones and build roads around a fictitious island, it's hard to imagine a better place.
And if you're curious what that might look like, here's the trailer from the 2013 event (featuring the classic German pop-rock hit "Dit Doo Doo Da Dit Doo Doo"):
Germany may be struggling to make cars right now, but they still make the best boardgames on Earth. Consider this a reminder.