These Six States Are Becoming Craft Beer Powerhouses
You know brews from Colorado, Oregon, and California. Who else is heading for that top tier?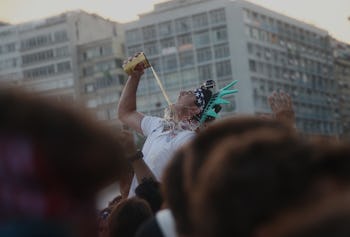 Getty Images
Whenever I travel, I get promiscuous with the local craft brews. This is why A) I don't fit into some of my pants and B) I've come to understand that all 50 states have a handle on microbrewing. (Yes, even Utah.) It's an idea that's reinforced at the Great American Beer Festival, year after year: You say your kickass brewery is in Kiln, Mississippi? Sure, why the hell not.
Colorado, Oregon, and California: Okay, yup, we understand your beer prowess. And even Michigan, Washington, Wisconsin, or Vermont. You know you're gonna get a heady brew if you're landing in one of those states. But who's up-and-coming? What territories that wouldn't be labeled "beer states" are bubbling up the ill suds? Here are a handful. (No, not Utah.)
6. Ohio
As I found out at GABF, Ohio is now exporting something besides tires and pro sports disappointments. Great Lakes, out of Cleveland, is the standard-bearer. Almost all its beers are top-notch, from the cheekily named Burning River to its flagship, Dortmunder Gold. And the Christmas Ale is not to be missed from now until it runs out.
Fat Heads is also seeing wider distribution, as is Akron's Hoppin' Frog. Other, smaller breweries that blew me away at GABF: Willoughby, Rhinegeist, and JAFB. Word is Brew Kettle and Columbus Brewing Company are also not to be missed.
5. Pennsylvania
Ohio's neighbor to the east is no slouch in the beer aisle, either. Victory, located outside of Philly in Downingtown, may be the best all-around brewer in the state. But Tröegs, Yards, and Stoudt's all have something to say about that. When I contacted beer distributor Nick Funchion, VP of sales and marketing for Penn Beer Sales and Service, he also name-checked Neshaminy Creek Brewing, Lancaster Brewing, and Bullfrog Brewery. "Tired Hands is a big up-and-comer in the Philly suburbs," Funchion tells me. The brewpub opened its first location a few years ago and just opened a second.
4. Illinois
A decade ago, while visiting my father in Chicago, I would bemoan the state of craft beer in Illinois. Goose Island seemed to be the only game in town and once I exhausted their options, I would just grab an Old Style. Now, it's a completely different story. I was just in Chicago for the past week and had the pleasure of knocking back a slew of beers from Half Acre — famous for its Daisy Cutter pale — Revolution, Two Brothers, and Pipeworks. Not only is the beer dank, it's widely available. It's almost as if a memo went out to the whole state a few years back and everyone decided to band together, staking claim on tap handles and grocery store shelves. Reached for comment, three days ago I said, "Mmm delicious. Gaaah, what? Bleehr."
3. Indiana
Okay, so, the Midwest is tearing shit up. Minnesota, Iowa, and Missouri all have nice beers and round out the whole region to make it more than a macrobrewing powerhouse. But Indiana is different. And mostly because of Three Floyds. Straight outta Munster, Floyds is most well-known for its stouts and one of its pale ales, Zombie Dust. Five of its brews place in the Top 250 on BeerAdvocate and, let it be known, I drank the shit out of some Three Floyds in Illinois last week. But, that's the rub: Its beers are only distributed to four other states and bars are constantly running out of kegs of the sought-after stuff. Surely it's part of the mystique, but, really, the beers are that good. I miss them already. I'm sad now.
Not to be outdone (even though, yes, they've been outdone) other Indiana breweries have been making some noise over the past few years. The state took home an unexpected ten medals this year at the Great American Beer Festival, with Sun King and Thr3e Wise Men — both from Indianapolis — leading the charge. And 18th Street Brewery and Upland also don't fake the funk on a nasty dunk.
2. North Carolina
Big-shot out-of-state breweries like New Belgium and Oskar Blues have expanded operations to North Carolina to better distribute to the Midwest, South, and East. But any North Carolinian will tell you that the state has been on top of its brew game for years. Olde Hickory and Foothills are fantastic, but the head honcho of the NC scene at GABF this year was undoubtably Wicked Weed. Lines for its beers reached Disney proportions. Asheville's favorite son took home silver in the ultra-competitive American-Style India Pale Ale category for its Pernicious IPA.
1. Florida
Two words: Cigar City. The Tampa brewery does its best to make residents of the Sunshine State make even worse decisions than they already were — a near impossibility. Its stouts are not to be missed. Other Florida brewhouses that are worth a gulp: Peg's Cantina, Funky Buddha, and J. Wakefield. I reached out to a Floridian for comment but they're all busy riding alligators into exploding meth shacks.