The Unsurprising Ahmed Mohamed 'Clock Boy' Halloween Costume Is Here
For when "Baby Cigarette Costume" is already sold out.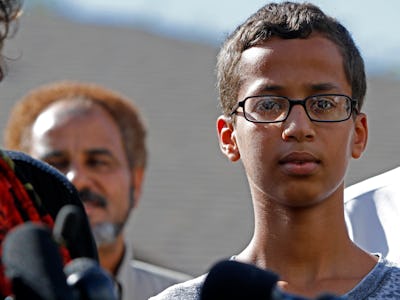 Ben Torres/Getty Images
It hasn't even been a month since Ahmed Mohamed catapulted his way into superstardom for bringing a clock to school. His timing couldn't be better, though, as he's being immortalized with a ridiculous, expected Halloween costume, the Houston Chronicle reports.
Mohamed's clock, of course, was mistaken for a bomb, which led to his arrest and a national outpouring of support from science and social justice types alike. President Obama tweeted at him; he attended New York's Maker Faire; and he got interviewed on The Nightly Show with Larry Wilmore, an appearance that revealed his sense of humor about the whole endeavor.
The costume — crudely named "Clock Boy Meme Costume" — is available for $79 via Costumeish. It comes with a fake clock in an aluminum case, glasses, handcuffs, and Mohamed's signature NASA t-shirt, which, by the way, is available elsewhere for much cheaper.
As dumb as it is, it's really not worth picking a fight about the Mohamed replica costume. The same site sells a "Lion Killer Dentist Halloween Costume," a "Cecil's Revenge Dentist Killer Costume" (for all the animal lovers), an "Adult Deflategate Football Costume," and, for those who are less concerned with relevance, the always classy "Baby Cigarette Costume." Bad, insulting costumes happen every year. It's a matter of tastelessness and a lack of creativity more than hatefulness. Of course, nobody should wear offensive costumes — ones that caricature or objectify cultures or touchy subjects. (Expect a lot of awful Caitlyn Jenner costumes this year.)
The Mohamed costume, however, strikes as more or less a news parody. He's a 14-year-old who got famous because he loves to build and the world around him is astoundingly racist. Turning him into a costume doesn't make him a punchline. He's as much a member of the public sphere as anyone now. He's even got a (really long) Wikipedia entry. Buy the Clock Boy Meme Costume, if you'd like. Ahmed Mohamed will probably dress up as the same. He just won't look entirely stupid doing it.