Electric SUVs and Presidential Alma Maters: This Week's Odds
The future, by the numbers.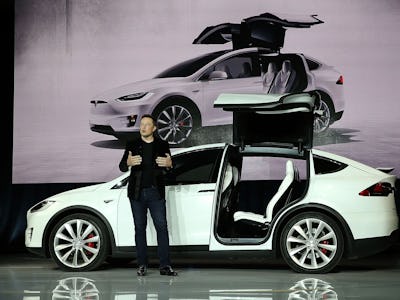 Getty Images
Hunter S. Thompson once said, "Gambling can turn into a dangerous two-way street when you least expect it. Weird things happen suddenly, and your life can go all to pieces." We're not sure what the author of Fear and Loathing in Las Vegas would have to say about the daughter of the president going to college, electric cars, or multi-billion dollar companies trading jabs, but we're sure he'd take his winnings in a dime bag.
Here are the odds on this week's big maybes.
1. Malia Obama Can Go to Any College She Damn Well Pleases
There comes a time in most high schoolers' lives when they have to pack up the car and their parents and head out to tour the many universities and colleges they're considering going into debt to attend. This is true, even if your dad is the president and your mom is the first lady. Malia Obama is currently a senior at the elite Sidwell Friends School in Washington, and she's gearing up for her jaunt into higher education. Between getting her extracurriculars in order, Malia has visited no less than twelve potential colleges including Brown, Columbia, Harvard, Princeton, the University of Pennsylvania, Yale, Stanford, University of California, Berkeley, New York University, Tufts, Barnard, and Wesleyan. No one knows where she'll go for sure. She was photographed wearing a Stanford t-shirt, but she also interned on TV shows like Girls and Extant, which could give the advantage to NYU. Princeton is her mom's alma mater, where her cousin plays on the women's basketball team, but her dad went to Columbia. Also, both of her parents went to law school at Harvard, which has a laundry list of presidential progenies among its alumni. Call us biased, but we're sticking with the New York Ivy on this one.
Odds that Malia Obama will go to Columbia: 5 to 1
2. Short Men Have Less Sex
Unfortunately for the height deficient men out there, sexing and slamming may be correlated. A new study out of Chapman University in California drew data from the sexual history of over 60,000 heterosexual males to determine whether tall men have more sexual partners than others. That presumption makes perfect sense: height could be equated with physical dominance and give them the upper hand in women seeking men. But it turns out that tall men have the same average number of sexual partners as average height men. Respondents with height ranges from 5 feet 5 inches to 6 feet 5 inches had an average seven sexual partners, but that number dipped for the short fellas out there. The authors of the study attribute this to a possible "minimal threshold" for women based on male height, meaning anyone taller than 5' 4" may be seen as an acceptable mate. Looks like Napoleon and guys of his ilk get the short shrift.
Over/under odds on the median number of sexual partners for very short men: 5 sexual partners
3. The New Tesla Costs A Lot, But Will Save You A Lot
Business magnate, inventor, and potential Bond villain in training Elon Musk unveiled the latest model electric car under the Tesla banner last week. This time, you'll be able to drive on nothing but electricity in an SUV. The Model X gets 257 miles on a single charge, and can rocket to 60 miles per hour in 3.2 seconds. It also has something called "Bioweapon Defense Mode" to filter outside particles out of the car in case of the apocalypse, and it also has hinged Falcon Wing doors with sensors on them so you can park anywhere and still look like a total badass. All of that awesomeness will set you back a cool $132,000, which puts it at a price range well above luxury SUV competitors like the Porsche Cayenne, which costs around $77,200. Musk and co. promised a base model that's being developed that will cost around $80,000, putting it within reach of some prosperous car buyers. Still, as it stands now the Model X bears a heavy price tag, but Musk and Tesla are hoping that consumers will look at how much money they'll save with the SUV in the long run, not how much it costs upfront.
Over/under dollar amount on how much drivers stand to save from the Model X based on federal and state tax incentives and cutting out gas altogether: $20,000
4. Amazon Is Cutting Out A Lot of People By Dropping Chromecast and Apple TV
The so-called "everything store" is undercutting its own mantra. Amazon announced last week that they would stop selling rival streaming devices "to avoid customer confusion." Specifically, Amazon will stop selling Google's Chromecast and Apple's Apple TV devices as a way to give more exposure to its own Fire TV line of streaming gadgets. The move makes sense if you realize that Chromecast and Apple TV don't offer access to Amazon Prime video, but then it doesn't make much sense at all when you realize it isn't Google or Apple's fault. Amazon just hasn't added its Android app to Chromecast and likewise hasn't created an app from Apple's app store. Both Google and Apple's devices were regularly on the top 10 list for electronics on Amazon, but now that well is drying up. Amazon hopes that it'll drive people to their Prime subscription, but it could just alienate a lot of tech-savvy consumers. Eventually Amazon will be the nothing store.
Over under on the amount of Chromecast and Apple TV users Amazon is cutting off: 41 million
5. Funding Climate Change Research Is No Small Thing
If you live on the Eastern Seaboard of the United States, you were probably glued to weather reports this past weekend touting the potentially deadly path of Hurricane Joaquin. Thankfully for many the hurricane turned eastward and dissipated, guaranteeing there wouldn't be a round two of weather-based devastation a la Hurricane Sandy from 2012. More and more Americans are taking notice of the threats of climate change, and so is the government. At the end of next month, the world's superpowers will convene in Paris and discuss progress on a promise made in 2009 by then secretary of state Hillary Clinton for world powers to jointly raise $100 billion for aid by 2020 to developing countries to deal with climate change. Six years later, insiders agree the planet is halfway to that money amount, but will we be able to raise $30 - 40 billion more to reach that goal?
Odds that the world will show a little altruism and combat climate change to the tune of $100 billion: 10 to 1