What Was George Lucas' Nixed 'Star Wars: Episode VII' Idea?
Lucas offered his input, but it won't show when you see 'The Force Awakens.'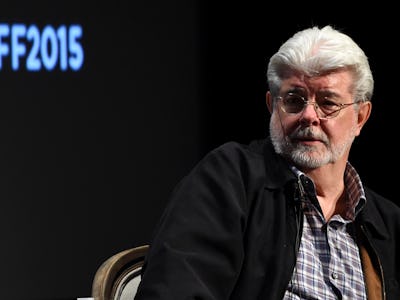 Getty Images
The seventh Star Wars movie will be released in December — the first of the series without the explicit participation of the movies' original maestro, George Lucas. For however many childhoods were molded by Lucas' original 1977 sci-fi extravaganza and the subsequent two sequels, they were almost universally dismantled by his woeful prequel trilogy beginning with 1999's The Phantom Menace. But when Lucas sold his eponymous production company, Lucasfilm, to Disney in 2012, rumors ran wild about not only the new installment, but also the extent of Lucas' involvement.
Lucas himself had been straightforward over the years about his own plans to make a sequel trilogy, telling Vanity Fair in 1999 "I never had a story for the sequels, for the later ones," later admitting he also would "probably not" let anyone else take over for him if it happened. Lucas went on to tell film magazine Total Film in a 2008 interview, "I've left pretty explicit instructions for there not to be any more features. There will definitely be no Episodes VII — IX. That's because there isn't any story," he explained. "The Star Wars story is really the tragedy of Darth Vader. That is the story. Once Vader dies, he doesn't come back to life, The Emperor doesn't get cloned and Luke doesn't get married."
Four years later, Lucas' $4 billion tag sale of his influential series brought with it the admission that he had the itch to revisit the saga for a new trilogy despite (or perhaps because of) the searing reception of the prequels. He told Bloomberg Businessweek in 2013, "It was fine before the internet, but now … it's gotten very vicious and very personal. You just say, 'Why do I need to do this?'" But he did want to do it. During the negotiation phase of the sale, Lucas presented Disney with his outlines for Episodes VII - IX.
Not many specifics are known about Lucas' outlines, and unless Disney suddenly decides to be completely transparent and let everyone in on some serious insider knowledge, we'll never entirely know what Lucas was up to. The outlines were so prized, so under wraps, they could be read during the sale process only by Disney CEO Robert Iger, company chairman Alan Horn, and executive VP Kevin Mayer, who all had to sign non-disclosure agreements to not reveal what Lucas had cooked up for his post-Return of the Jedi movies.
Iger told Bloomberg, "We thought from a storytelling perspective they had a lot of potential," but they ultimately decided to branch off to new adventures, abandoning Lucas' ideas and input for a sequel trilogy.
The only real details that have trickled out was that they were set decades after Return of the Jedi, and that Lucas had recruited Carrie Fisher, Mark Hamill, and Harrison Ford for a return to his universe even before Disney made its ginormous offer to buy Lucasfilm. Lucas' take also focused on teenagers, which is similar to The Force Awakens but not necessarily the same sorts of characters. Perhaps Lucas' ideas came too close to the whiny adolescent scamps of The Phantom Menace onwards. The cast of Episode VII is much more in the same age range as the original three leads in 1977. Ford was 35, Hamill was 26, and Fisher was 21. In The Force Awakens, John Boyega is 23, Daisy Ridley is 23, and Oscar Isaac is 36.
Ultimately Disney and new Lucasfilm president Kathleen Kennedy decided to go their own way. "We've made some departures," Kennedy told Vanity Fair, but conceded that the differences were "exactly the way you would in any development process." Lucas himself seemed completely fine with being cut out, admitting in an interview with Kathleen Kennedy for StarWars.com, "I always said I wasn't going to do any more, and that's true, because I'm not going to do any more. But that doesn't mean I'm unwilling to turn it over to Kathy to do more."
And Lucas shouldn't care too much. He's used to being rebuffed by big studios, which was one of the main reasons he branched off to create his own independent studio, Lucasfilm, before kicking off this whole universe. Yet you could still tell Lucas was blue when he ceded control of his baby. He told Bloomberg: "Ultimately you have to say, 'Look, I know what I'm doing. Buying my stories is part of what the deal is.' I've worked at this for 40 years, and I've been pretty successful."
Yet his influence is inextricable from Star Wars. It's this willingness to compromise that let Lucas sit in on initial story meetings for what would become The Force Awakens. According to Bloomberg, this consisted of Lucas explaining to the new filmmakers things like "You can't do this. You can do that … 'The cars don't have wheels. They fly with antigravity,'" or, "'He doesn't have the power to do that, or he has to do this.'" But there are still conflicting reports about just how much he has participated in the new movies. Per to an interview he gave to Screen Rant, Lucas admitted, "I have no idea what they're doing."
Abandoning Lucas' ideas and coming up with something new was arduous for Kennedy and new director J.J. Abrams. Academy Award-winning Little Miss Sunshine screenwriter Michael Arndt was initially brought on to pen the script to Episode VII, but was canned in favor of another completely new take by Abrams and Empire Strikes Back co-scribe Lawrence Kasdan. Those who still slight Lucas for his prequels still hold out hope that The Force Awakens will be the best installment yet, with or without Lucas on board.