After 'SuperMansion,' What Can Superhero Parodies Do Next?
When superheroes are already silly, are parodies redundant?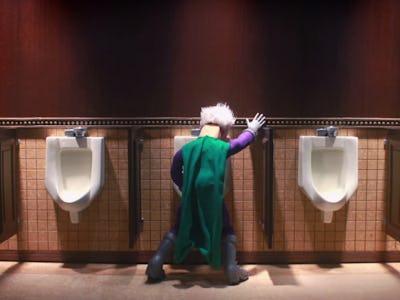 Will we get tired of superheroes? Are we already over them? Anti-superheroes is a popular sentiment that is fast gaining consensus and is supported with evidence by the just good-enough box office of Avengers: Age of Ultron and Ant-Man. It happened to Westerns after all, so the detractors say. Will kids ditch their Batman costumes like kids eventually ditched the Lone Ranger?
Probably not. But we are reaching critical mass with superheroes that subversions of it are becoming its own thing. Comedic spoofs like Hulu's The Awesomes and South Park: The Fractured But Whole coming next year, or straight-faced alternatives like Heroes Reborn have made this season chock full of supers without association with Marvel or DC.
The latest, SuperMansion premiering on Crackle next week (at the start of New York Comic-Con), is another send-up of superheroes and their antics. Despite SuperMansion's stellar talent, among them Breaking Bad star Bryan Cranston, it isn't much different from what has been seen before.
Do superhero parodies have a place anymore?
It's hard to laugh at superheroes now that the "real" ones are just as goofy as the parodies. Guardians of the Galaxy was a laugh riot, and the best parts of Avengers are when they're all trading hysterical burns.
Their levity, weighed against the actual, dangerous stakes they're burdened with makes them far funnier than the spoofs spoofing them. We may love The Tick and Darkwing Duck, but we also have Groot and Drax now.
But parodies can still be fun. Despite treading well-worn ground, SuperMansion manages to pull off chuckle-worthy gags thanks to the talent of its cast. I'd be lying if I said I weren't looking forward to South Park: The Fractured But Whole, the spiritual successor to South Park's "The Coon" tetralogy and timely takedown of gritty movies like The Dark Knight and Watchmen.
But gritty superheroes are passé (for proof, see Fantastic Four) and we like to giggle now during those big-budget summer tentpoles. Superhero parodies, like Titanium Rex, are showing the genre's age.
So enjoy it while you can, when SuperMansion starts next week. The first episode is available in its entirety right now.