Amazon Drops Apple, Google Devices in Ongoing War to Dominate Streaming Vid
If your hardware doesn't like Amazon Prime you can just get the fuck out of their store.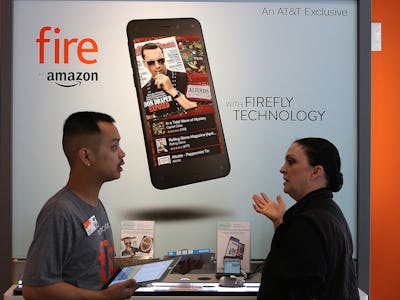 Getty
Amazon is done carrying devices that don't cater to its Prime Video Streaming service. The online retailer has told marketplace sellers that as of October 29 it will stop selling the Apple TV and Google Chromecast products.
No new product listings will be accepted, and all existing inventory will be removed from Amazon.
Here is the relevant section of the email Bloomberg reports has been sent to to members of the Amazon Associates program:
"Over the last three years, Prime Video has become an important part of Prime. It's important that the streaming media players we sell interact well with Prime Video in order to avoid customer confusion."
Set-top boxes and consoles from Microsoft, Playstation, and Roku have apps for streaming Amazon Prime, so they'll still have a place at the store.
Guess Amazon is sick of running a video streaming service that, as of last year, a third of Prime subscribers didn't even bother to watch.
And as MacRumors points out, this isn't much incentive for future Apple devices to work on Amazon compatibility.
Then again, Apple's still got that sorta-exclusive deal with HBO Go.