Psychologists Embedded PSAs in Telenovelas and Nothing Happened Next
Sometimes experiments fail. Sometime silly experiments fail spectacularly.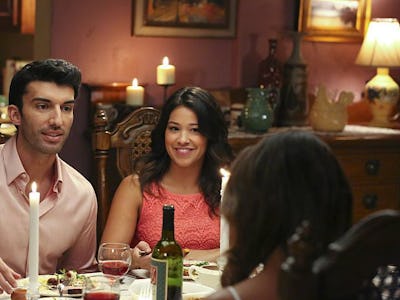 https://www.facebook.com/cwjanethevirgin/
In an attempt to brainwash telenovela lovers into good behavior, researchers embedded PSA-worthy scenes into three leading Spanish-language programs. For the most part, the study failed, as the authors reported recently in PLoS One.
The researchers, led by Elizabeth L. Paluck of Princeton University, aimed to explore how much television viewers were actually influenced by the behaviors and decisions they saw on their favorite shows. Commercial product placement, after all, has a huge influence on purchasing patterns. Why shouldn't that extend to everyday behavior?
They collaborated with scriptwriters on three nationally broadcast Spanish-language telenovelas to embed 23 scenes promoting social goals like avoiding drunk driving, Googling, preventing high cholesterol, opening a bank account, or registering to vote. The scenes were interspersed throughout the broadcast season and reached an estimated 1.2 million people per week.
After each episode aired, the researchers used various methods to track its influence. For instance, Google Trends was used to track searches for "aceite de oliva" after the scene on heart health. Police departments provided the data on drunk driving. Data that was self reported — say, "I try to eat healthy food or a balanced diet" — were collected from a commercial consumer research firm.
Turns out that telenovelas aren't the forum to wax didactic. Google searches associated with heart health didn't rise. There was no sudden increase in voter activity. Banks weren't overwhelmed with a sudden influx of Hispanic customers. One scene, showing Hispanic teens applying for college scholarships, did have a mild effect — the Hispanic Scholarship Fund received three times the number of visitors after the episode aired. The rise in traffic faded after about a week.
The only behaviors that were even remotely affected by the embedded scenes were the ones that required minimal effort and time. But for the most part, it's just not worth the effort. As the researchers put it:
"In our study, the airtime devoted to the suite of messages would have been worth millions of dollars, but the cumulative effect of these messages on the general population was small and short-lived."
The idea of using TV to spread messages about health and social good is obviously nothing new. It could be that the experiment failed because, as PsyPost pointed out, the very nature of telenovelas requires viewers not to take things too seriously. Will networks have to include genuinely positive storylines to reach audiences? We'll probably never find out.
But PSAs are still a thing.