Who Supplies Lethal Injection Drugs?
As a black market for lethal injection drugs thrives, states protect the identities of their suppliers.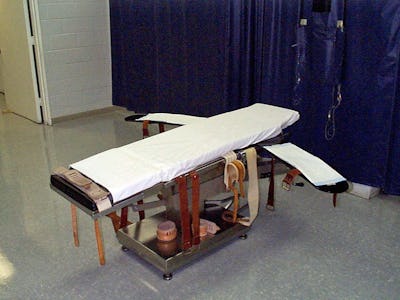 Getty
Nine Arkansas death row inmates have filed a lawsuit against the state for refusing to reveal its source of the drugs that will likely kill them.
The lawsuit, filed Monday in Pulaski Circuit Court, challenges the state's three-drug protocol, specifically the use of the sedative midazolam, which has been linked to several botched executions over the last 18 months.
The inmates, eight of whom are out of appeals, argue that they had a prior settlement with the state to be informed of the drug's source, and that a new Arkansas law to protect lethal injection drug suppliers violates the state constitution's law against new laws being passed to undermine a contract. Other states' secrecy laws have withstood legal challenges but Arkansas's prior agreement gives this suit unique leverage.
Concerns over the drug's origins have fearful precedent. In recent years, as death penalty states saw their drugs of choice dry up, a full-blown black market for lethal injection compounds has blossomed, with law enforcement officials caught crossing state lines to hit up a pentobarbital dealer, like an addict slinking out to meet his/her connect. Executions become grisly spectacles with people in agony for hours shot up with drugs of vague origin and uncertain potency.
One potential source for these drugs is compounding pharmacies, companies with a uniquely tenuous relationship to consumer protection. Compounding pharmacies were originally labs that mostly mixed drugs tailored to one specific patient with needs too exact to be met by large-scale production companies; however, in recent years they've turned to mixing drugs on a much larger scale to counter local shortages.
Compounded drugs are not subject to FDA approval and are not verified for safety or effectiveness, and the labs are instead left to be regulated by state medical boards. However, after one such lab in Massachusetts was uncovered as the source of a 2012 fungal meningitis outbreak that left 61 people dead, President Barack Obama signed a 2013 bill that allows for large-scale production facilities to register as outsourcing facilities subject to FDA regulation. It's not exactly the kind of oversight that assures you every lab is making its cocktails on-point.
The International Compounding Pharmacy Association, which has yet to respond to interview requests from Inverse, has no official policy on supplying lethal injection drugs but provided this quote to Forbes for a 2014 story on the pharmaceutical group's lack of opposition for the death penalty.
"IACP has taken no formal position on compounding pharmacies' preparation of drugs used in executions. The pharmacy profession recognizes an individual practitioner's right to refuse to dispense a medication based upon his or her personal, ethical and religious beliefs. In a very few cases, compounding pharmacies have been asked by state corrections agencies to assist in preparing drugs used in executions because pharmaceutical manufacturers have unilaterally restricted distribution."
IACP believes state corrections agencies should work first with the pharmacy services providers — the companies that provide medications to prisoners within their systems — to source or compound drugs for executions before soliciting a traditional compounding pharmacy."