'Mass Effect' Attraction Coming to California's Great America Next Year
EA and BioWare's apocalyptic sci-fi RPG shooter will be fun for the whole family.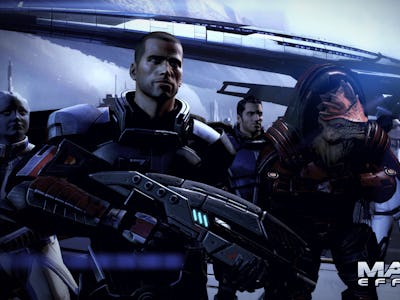 EA Games
Mass Effect is one of the most popular sci-fi role-playing video games, but it's not Disney. Having sex with aliens and staving off total genocide aren't palpable for a family outing to a theme park. And yet, BioWare is bringing Mass Effect to California's Great America park as a live attraction set to open next year.
"Curated by a life-performer," the attraction is a 3D and 4D ride in a battle "on a distant planet" against "larger-than-life foes." Someone doesn't know their Mass Effect, because not a single word about the Reapers or the Geth or where in the Terminus Systems (the one most likely to have such formidable foes) are mentioned in the press release.
"This combination of technology and creative video game content is sure to usher in a new wave of entertainment innovation at amusement parks," said Raul Rehnborg, California's Great America VP and General Manager in a statement. He's not wrong, this is one of the most notable examples of video games having a space in the realm of live theme park attractions. Even Nintendo hasn't had much success turning their world-renowned characters into theme parks, which makes Mass Effect a really peculiar franchise to Disney up.
Hypothetical scenario. A kid wants to cut you in line. Paragon option: Let him through? Or Renegade option: Slap the snot out of him?
The still-unnamed Mass Effect ride opens sometime in 2016. Mass Effect: Andromeda, the upcoming fourth game in the series, will be released holiday 2016.