What to Expect From 'Sleepy Hollow' Season 3
Can the dark fantasy cop drama redeem itself?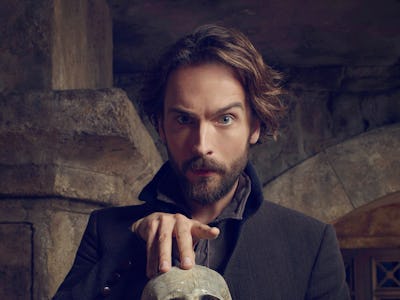 FOX Networks
The underwhelming second season to Fox's dark fantasy hit Sleepy Hollow was the equivalent to driving on an unpaved road during a joyride. It was still Sleepy Hollow, which remained hilarious and warm against its apocalyptic premise, but the second season lacked stuff that made its first so damn good. Namely, a plot that made sense.
But now on its third lap, the slate has been wiped clean. Nothing that bogged down Sleepy Hollow are around: Katrina Crane, a boring damsel for Ichabod to rescue, is dead. The Horseman of War, Henry Parish, is also dead, so we don't have to hear about Moloch for a good while. As is Frank Irving, and though Orlando Jones is a pleasant presence to have on any show, Irving served his purpose long ago.
Now that the dead weight is off its back, how fast can the show run? Here's what you can expect from a much freer, hopefully much better Sleepy Hollow.
Nothing matters: No Headless Horseman.
That's right: Sleepy Hollow, a modern spin on The Legend of Sleepy Hollow, is getting rid of its most recognizable villain.
For fans of the show this is actually a welcome change: Complaints about the Horseman's emasculating origin story — being Crane's old mate and dweller of Katrina's friend zone (PSA: Friend zones exist only in TV) — were almost unanimous. One of TV's coolest, most savage villains had his balls cut off, and that's not cool.
While he could return one day and would probably be welcomed, it's time for a new terror to reign over Sleepy Hollow. For now.
Some fun, apparently.
According to new executive producer Clifton Campbell, the "fun is definitely back." Alluding to the second season's laser missteps trying to make its complicated mythology stick, Campbell promises that the boundless energy from the first season is in full swing for its third. "We're not going to be as mythology-laden as the show has been in the past," he told Entertainment Weekly.
But tons of new faces!
Last season Sleepy Hollow tried to add Nick Hawley (Matt Barr), a cardboard Han Solo, and Indiana Jones pasted onto Paul Walker's body and they quickly realized what kind of mistake they made. He was written off despite a forced relationship with Jenny and there's little indication Barr is reprising his role this season.
But the show could use some new faces. Just, better ones. Enter Lance Gross, Abbie's FBI boss Agent Reynolds, and a returning Zach Appelman as Joe Corbin, the Marine son of Abbie's mentor August, whose involvement in the holy crusade still remains shrouded in mystery.
Appelman made quite the impression in his one-off appearance last season — where Joe was turned into a hideous, primal beast — and has been promoted to series regular. Presumably with less hair and normal teeth.
Also joining the cast is Nikki Read as Betsy Ross. Yes, the Betsy Ross. Ben Franklin and George Washington have been in the show, so why not? The flagmaker is the only woman in Washington's holy cabal, and infused the original 13-star flag with some mysterious powers that will no doubt be a big thing.
Wayward Pines' Shannyn Sossamon is also joining as a woman named Pandora, who will be seeking Abbie and Ichabod's help. Over/under on whether or not she'll have a box that's full of bad things?
Jenny Mills: Productive citizen.
After having spent the last two years in and out of asylums, Jenny might finally function as a legit part of Abbie's team. And society. She's got a job now, according to Cinema Blend, and no longer needs to hide when things like "the law" might be involved with an anti-demon operation.
AN ICHA-MOBILE?
"I do think we need to get him a motorbike," Tom Mison, who plays Ichabod, said in an interview with Give Me My Remote. "Maybe Abbie riding the motorbike and Ichabod riding in the side car, that's how they get around."
I haven't wanted anything more in my life than seeing Abbie, a short, sassy, cop on a motorcycle with a 17th-century British gentleman riding shotgun. Both wearing silly goggles and scarves flapping in the wind. Crane tries to "take a selfie-graph" with his "mo-byle telephone" and Abbie scolding him to put his damn hands in the car.
Holy shit. Yes.
A Bones crossover.
Yup. That's a thing. That's happening.
Sleepy Hollow premieres Thursday, Oct. 1 at 9pm EST.