People Have Opinions About Water on Mars
The possibility of life on Mars has life on Earth thinking a lot of things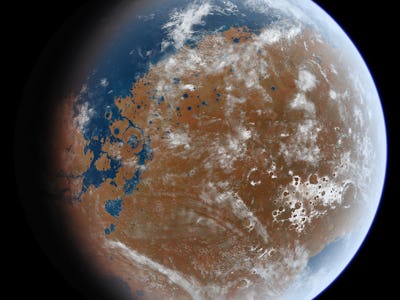 Wikimedia Commons
The news that liquid water flows on the surface of Mars was incredible:
And as expected, the world reacted in its characteristic blend of enthusiasm, inquiry, skepticism, humor, and, of course, downright idiocy.
Here's a slice of what all that looked like over the last day or so.
The Onion ran a nice post with a headline that read "Nation Demands NASA Stop Holding Press Conferences Until They Discover Some Little Alien Guys." Favorite quote:
"And none of that microscopic organism crap. It should be real alien dudes with way more arms than humans and that can talk using their minds instead of their mouths."
Also, shoutout to an oldie but a goodie that ran in 2013: "Delirious Rover Hallucinates Water On Mars."
Akshat Rathi at Quartz offers a good argument for why getting to the Martian waters that could be home to extraterrestrial life is a far bigger challenge than discovering the water in the first place.
Trevor Noah's debut on The Daily Show proved, at the very least, he could do what Jon Stewart's old show could and spin a humorous take of the news up in time for broadcast that day. When Noah asked Roy Wood, Jr. — introduced as the show's "Senior Mars Correspondent" — what he thought about the Mars discovery, Wood responded with a brilliantly delivered, "I can tell you I don't give a shit…They want us to be excited about motherfucking water?"
Buzzfeed pretty unnecessarily translated the big news into emoji.
My BuzzFeed-inspired reaction:
Of course, Google couldn't help but get in on the action with a doodle today:
Bart Noble drew up a great comic emphasizing how much space news we've been inundated with over just two days.
Science writer Ed Yong did something similar, albeit with much darker (and bigger gut-busting) results.
And, of course, this news hits the same weekend The Martian is set to open…
Peter Bradshaw at The Guardian makes a pretty insane argument that perhaps this isn't a coincidence at all. I want to emphasize that to argue such a thing is, in fact, what is actually insane.
And then you have the director of the movie, fuckin' Ridley Scott, scoffing on that he actually knew about the liquid water on Mars months ago.
"Mr. Scott said in an interview with The Times on Monday that the head of NASA had shown him the photos of the water about two months ago, and that had the news come out before production of 'The Martian' began, it probably would have affected key plot points in the film."
The author of the original book, Andy Weir, told Mashable that if he had known about the discovery, he "absolutely would include the briny water…I'd have put it in the Schiaparelli crater."
The worst reaction to the news was probably from conservative radio host and human fungus bag Rush Limbaugh, who called the announcement "fraud" and said:
"this news that there is flowing water on Mars is somehow going to find its way into a technique to advance the leftist agenda. I don't know what it is, I would assume it would be something to do with global warming and you can — maybe there was once an advanced civilization. If they say they found flowing water, next they're going to find a graveyard."
Seems reasonable, right? But let's all remember that Barack Obama has been to Mars and back, so hey, this could all be part of the socialist agenda to destroy the country, amirite??