White Flight Is Reversing in Detroit, Overturning a 60-Year Trend
And it's not just the Motor City. America's urban areas are getting whiter by the day.
by Sam Blum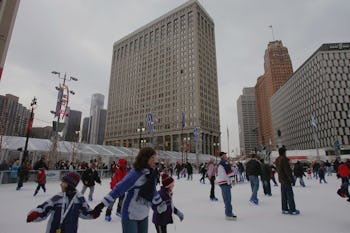 Getty
Detroit is essentially the poster-city for population flux and demographic shifts. In 1950, the city's total population neared 2 million people, 84 percent of whom were white. If you flash forward 60 years later to 2010 though, the city's total population tapered off at 711,299 total residents, 84 percent of whom were black.
The phenomenon of "white flight" that characterized Detroit for the better part of a century seems to be reversing course to some extent; however, as Census data recently reported by the Detroit News contends, the city's white population grew by 8,000 people in 2014. According to that Census data, last year is marked by the largest influx of white people Detroit has seen since 1950.
Even with 8,000 new white people living in Detroit, the city's total white population is only up 2.5 percentage points from 2010, and currently amounts to a total of 10.2 percent of the city's collective demographic. Detroit still has the smallest white population of any major American city, according to the Washington Post.
Naturally, the familiar theme of gentrification rears itself, and for good reason. The same Census report confirmed that Detroit is the poorest big city in the United States, where a whopping 39.3 percent of the population lives below the poverty line.
Speaking on the public radio show "Detroit Today," host Stephen Henderson noted that while last year was marked by a concerted increase in Detroit's white denizens, the city's overall population isn't growing. "We are still losing more people than we are gaining here in Detroit," Hendersen said, noting that usually anecdotal discussions about gentrification in Detroit have been given new weight by 2014's Census data.
The white populations in various cities across the country have waned and spiked throughout history, but the Detroit Census findings generally confirm that the city's new white residents are increasingly more well-to-do and educated types, intent on staking out lower rent in areas like downtown and midtown. Give this trend a few more years and the term "inner city" as a code for "poor and black" will be a relic of a more segregated era.