The Ethical Ad Blocker Exposes the Problem With Online Advertising
You'll have to disable AdBlock to see this one.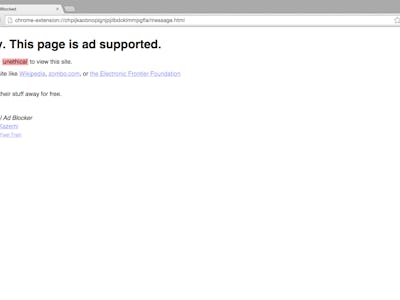 On the surface, the internet is free and wonderful. Most non-premium websites don't require payment for access, and since the advent of AdBlock, they appear clear of the marketing clutter that makes them sustainable. The thing is, sites don't make money when you block their ads, meaning you're basically stealing content.
Portland artist Darius Kazemi thinks that's unfair. We should be able to surf ethically without being inundated by ads: having our cake and eating it too, as it were. Thus, he's created the Ethical Ad Blocker, a Google Chrome extension that prevents you from visiting any ad-supported websites. You can't steal content without access in the first place!
The extension does not promote functionality. It's a statement. One that Kazemi likely hopes will get us to pause our AdBlock for good. As he writes in the extension's description, "the user doesn't experience ads, but they also don't leech free content. Everybody wins." Sarcasm noted.
The Ethical Ad Blocker may not be a longterm answer to the internet's ad problem. Kazemi's project does, however, point out the need for a better solution than either suffering through ads or blocking them and feeling greedy and selfish. Maybe that means more premium content with bearable fees (maybe $2 a month to get ad-free all-access?), or maybe less intrusive and creepily predictive advertising.
For now, try out the extension and see how long you can last before you're overcome with shame, crumble, and never skip or block an ad again. Enjoy all 90 seconds of that YouTube promo.