FPS 'Ghost in the Shell: First Assault' Marks Return of Series
'First Assault' will be a free-to-play multiplayer FPS.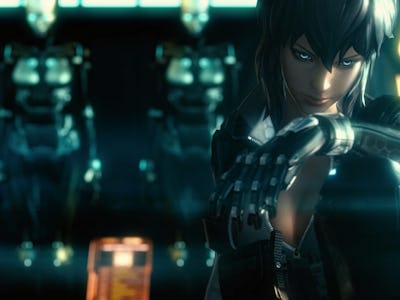 Nexon
First-person shooters aren't very popular in Asia, which makes the upcoming Ghost in the Shell: First Assault, a new online game based on the wildly successful anime franchise, a bit of a curiosity.
Developed and published by Korean studio Nexon, First Assault will be a free-to-play multiplayer FPS typical of Nexon's catalog. Taking place in the continuity of the 2002 anime series Ghost in the Shell: Stand Alone Complex, players will step into the boots of a cyber-augmented policeman in Major Motoko Kusanagi's Public Security Section 9 squadron to take down terrorists, cyber criminals, and other really bad people who aren't behaving.
Could First Assault be a literal first assault to reintroduce to Ghost in the Shell for a Western audience? We eat up first-person shooter games like Thanksgiving dinner, and it's been awhile since Ghost in the Shell had a significant presence outside Japan. (The 2013 Ghost in the Shell: Arise entertained only the hardcore faithful.) But with a 2017 feature starring Scarlett Johansson around the corner, now's a good time to get Ghost in the Shell on the tip of geek tongues again.
For the unfamiliar, Ghost in the Shell ran only from May 1989 to November 1990 as a Japanese manga series before the story became the highly influential 1995 movie that notably contributed to the cyberpunk sci-fi genre:
Created by Masamune Shirow, Ghost in the Shell is a sci-fi deconstruction in the spirit of Aldous Huxley that plays tennis with the ethical ambiguity of technology over nature. The likes of James Cameron, Steven Spielberg, and the Wachowskis have expressed their admiration for Ghost in the Shell, and the anime's influence runs through some of their best-known work:
The Matrix asks us to weigh the value technology at the cost of the soul and what it means to maintain a natural identity in an artificial world — the same sorts of questions posed by Ghost in the Shell. It's too bad First Assault doesn't bother with them between shooting at stuff.
If it weren't for the Ghost in the Shell brand slapped on to it, First Assault would look indistinguishable from other first-person shooters. Crysis, BioShock, and more have been adding superpowers to vary the point-here-pull-trigger nature typical of shooter games.
The game won't be out until 2016, but the closed beta is available for registration on Nexon's website. At least it'll be free.