Tim Dickinson of 'Rolling Stone' Knows Who to Follow on Twitter: MEDIA DIET
Don't sleep on this West Coaster's recs for magazines and hype kids music.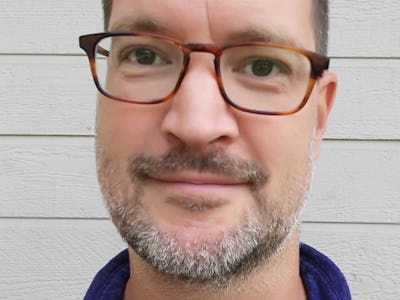 Tim Dickinson
Rolling Stone might've started out as a music publication, but it quickly became a go-to spot for world affairs and politics. That tradition continues today, and Tim Dickinson is one of the main reasons. The contributing editor has been covering national affairs for the mag since 2004. I caught up with him in Portland, where he lives, to find out what he's paying attention to besides the GOP presidential debates.
"I cut the chord a long time ago, so I binge watch a lot on Netflix and Hulu," Dickinson says. The first show he mentions is the AMC-to-Netflix series The Killing. "It makes Seattle look like this noirish, crime-infected hellhole. It's like depictions that we're used to getting of L.A., this skeezy underbelly," he says. "It'd be hard to call it 'lovely,' but it's really well-executed. The lead performances are just excellent."
Bloodline is "one of the best things I've seen on any screen," Dickinson says. "This new age of TV, you get to watch these actors just let loose over hours and hours. If it had been a two-hour movie, it would've robbed so much. This is being able to actually follow an actor through a role." He's also into Catastrophe, Rob Delaney's show picked up by Amazon stateside (from Channel 4 in the UK). "It's not what you expect" if you know Delaney from Twitter and his comedy, Dickinson explains. "I found it fresh and surprising. You get the feeling that it's more like what his actual life is like."
Being in the magazine biz, I ask Dickinson if he still picks up — ya know — actual paper writings anymore. The California Sunday Magazine, which gets distributed through a bunch of newspapers, is the first thing he mentions. "It's what The New York Times Magazine wants to be," he says. "It's a great read and untamed in a really nice way." The guys behind it also run Pop-Up Magazine, a stage show that's sort of life a magazine come to life. "In San Francisco, it sells out every time. It brings the literati of San Francisco together. People are hanging out at the bar for hours afterward," Dickinson says. "It's the same sensibility as the paper magazine, too: this West Coast perspective on life. And being a lifelong West Coaster, I appreciate it." The show begins a tour of a few states next week.
I'm genuinely curious as to how Dickinson absorbs the news, which is a large part of his job. "For me, Twitter has made cable television obsolete," he says. For live events that he needs to scope — like this week's GOP debate on CNN — Dickinson does what most of us do: uses his parents' cable subscription to patch in and stream. "You know, I'm 40 years old," he says. "As a news consumer, I find I'm much better served by Twitter, and following the actual professionals digging up nuggets. It's a much higher return on an investment of my time."
Because of his self-described "broad beat," I ask him what peeps on Twitter are must-follows. "Matt Fuller covers all the far-right troublemakers in Congress. That's his beat on the Hill. He's got a very good sense of humor and he writes about this stuff really well. He's always covering on Twitter when these guys go to the Tortilla Coast — this shitty Mexican restaurant across from the Capitol — where they hatch all of their harebrained schemes to shut down the government." Awesome.
So, who else, Timothy? "Justin Gerdes used to be an intern of mine at Mother Jones. He picks up these super interesting developments in clean energy and climate change news," Dickinson highlights. "There are some great journalists who happen to women in San Francisco," he says, speaking of the town where he used to live. "Susie Cagle is an illustrator as well as a journalist, and she sends up the tech culture. Julia Carrie Wong is a staff writer at SF Weekly. And Sarah Jeong went to Harvard Law School; she now writes about law and tech for Motherboard."
He goes on. "So, I follow the trio of them and keep tabs on all the ridiculous things going on in San Francisco: the latest excesses of tech culture," he says. "So much of the tech coverage is reverent and these people cover it in a way that is more clear-eyed. They bring out the uglier, male-dominated, stupid, narrow vision of these companies that think they're changing the world. They call these start-ups worth a billion dollars 'unicorns' and Cagle has this amazing drawing of this fat, bloated, dyspeptic unicorn that's had too much Soylent or something." Sounds like Silicon Valley owes these ladies some cash.
Dickinson namechecks Roman Mars' podcast on design, 99% Invisible, before busting out some musical expertise. "I have two young kids, so we do a lot of kids music — which, in Portland, is not such a drag at all. There's this performer named Red Yarn and he plays all this revival, old school, backwoods folk music. The music is top-notch. If you gotta go down that road, I highly recommend Red Yarn." Solid. Play us out, Red Yarn: