Watch Someone Beat the Mountain From 'Game of Thrones' at Arm Wrestling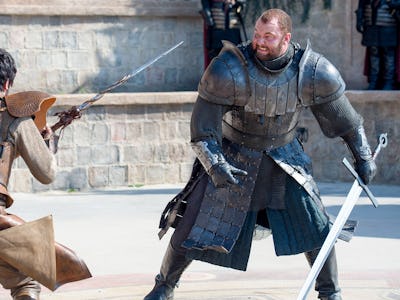 Hafthor Bjornsson — who Game of Thrones fans know as the Mountain — is the strongest man of the past millennium. Possibly for real: the 6'9, 419-lb Icelandic former pro basketball player broke a 1,000-year-old strength record set by the Vikings.
Lugging a 600-kg log is why Vikings get respect and cool, popular, critically acclaimed shows. By contrast, Canadians are often punchlines for their perceived ineffectuality. Their most prominent celebrity even has a White House petition calling for his deportation.
Then this happened:
Poor Oberyn might not have been able to vanquish The Mountain, but Devon Larratt, a Canadian arm wrestling champion who is roughly half of Bjornsson's size, just beat him in an arm wrestling match. This still doesn't quite make up for Bieber, but we'll call it even, Canada.