Exclusive: In Suicide Squad #1, no one is safe
"We tell people not to get attached."
by Jeff Spry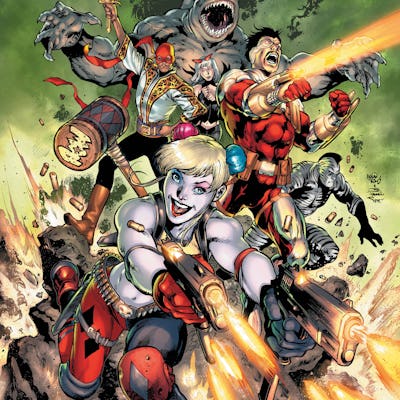 DC Comics
With Guardians of the Galaxy director James Gunn steering the upcoming Suicide Squad sequel and a raunchy, R-rated Harley Quinn animated series recently unleashed on DC Universe, interest for the adrenalized convicts of Task Force X is reaching a fever pitch.
To add to the mounting mayhem, DC Comics is launching a fresh reboot of the "Worst of the Worst" in Suicide Squad #1 starting Wednesday, Dec. 18 from DCeased writer Tom Taylor. We'd advise not getting too attached to any of its rowdy roster though. Rumor has it that many of them won't survive the premiere issue, presented below in an exclusive 5-page preview.
"These characters really can be gone by the time you get to the last page," Taylor tells Inverse. "We tell people not to get attached, but I do. Which makes it hurt all the more!"
Written by Taylor and injected with arresting art by Bruno Redondo, the plotline introduces a new stitched-together team led by Harley Quinn, Deadshot, and the Shark. Believe us when we say things get bloody very fast! Sent by a mysterious new leader named Lok to neutralize an international group of super-terrorists called the Revolutionaries, the Squad soon faces forced integration when the surviving members of the targeted team join their ranks.
Taylor and Redondo worked together previously on DC's Injustice and Injustice 2 and here they construct perhaps the most insane incarnation of the Suicide Squad ever. Rounding out the creative crew are colorist Adriano Lucas, letterer Wes Abbott, cover art courtesy of Ivan Reis, Joe Prado, and Alex Sinclair, and a killer variant by Francesco Mattina.
Inverse chatted via email with Taylor about this crazy new concoction and learned what sort of unbridled anarchy might be in store when Suicide Squad #1 goes ballistic.
What were some of the sweet spots you hoped to hit when rebooting this scrappy new Suicide Squad?
For me, I just want the book to live up to the title. I want readers to fear for every member of this Squad on every single mission. As a reader, it's hard to believe a character might not make it through a story; they can fall at any time.
Who are the Revolutionaries and how do they factor into the story arc?
Given the previous casts did have a lot of 'untouchables,' the brilliant Bruno Redondo and I (with a lot of input from editor Andrea Shea) created the Revolutionaries - a group of take-no-prisoners freedom fighters from all over the globe. And we basically smashed these two teams together. The characters left standing at the end of our first issue then go on to populate our series.
How did you get your Suicide Squad "game face" on to tackle this raucous reboot project?
Honestly, just the same as every other project. I put every character in my head. I get their voices down and their powers and their pasts – and then I put them through the wringer. The only difference between this and other projects is that these characters really can be gone by the time you get to the last page. We tell people not to get attached, but I do. Which makes it hurt all the more!
Who are some of the more surprising members of the new Suicide Squad we'll meet, and which baddies were the most fun to write and draw? Zebra-Man? The Shark?
The Shark is a lot of fun. He's a great big Apex predator and he struts (and swims) around like one. Cavalier is also a special kind of ridiculous. The Squad's new leader, Lok, is also a ton of fun. He's just so old-school petulantly evil.
With DC Universe's new R-rated Harley Quinn animated series out and a Birds of Prey and Suicide Squad features upcoming, what story and tonal elements are considered when resurrecting a high-profile team like this?
Our book certainly isn't R rated, but there's still a bit more violence and blood than your average comic – that kind of comes from people who have bombs inside them. One of our variant covers is just blank and red – we've joked that will save time for any artists doing sketches.
Does this Suicide Squad comic tie into James Gunn's 2021 sequel in any way or is it a standalone story?
The book that Bruno and I are working on will fit into the wider DC comic book universe, but we've made it so ANYONE can pick up this series and enjoy it. Or be traumatized by it. Or both!
What makes Harley Quinn and her maniacal misfits so endearing for you and for fans?
I've been a fan of Harley forever. She was a huge part of our Injustice series and ended up having a big role in DCeased as well. Harley is the ultimate court Jester, who can always speak truth to power – usually while pointing and laughing.